Typhoon Rammasun: At Least Ten Killed and 370,000 Evacuated in Philippines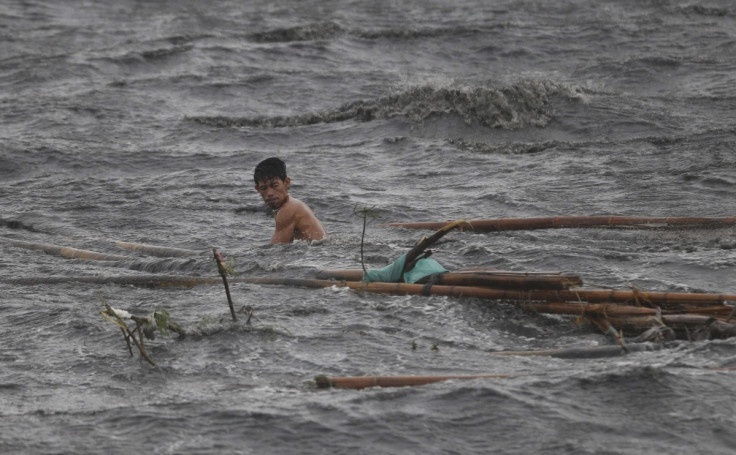 Typhoon Rammasun has killed at least 10 people across the Philippines as it tore through the eastern parts of the country and hit capital Manila, forcing the evacuation of tens of thousands.
The typhoon, the strongest to hit the country this year, packed winds of 185 kph (115 mph) as it swept through large parts of the country, toppling trees and power lines and causing electrocutions.
In capital Manila it brought storm surges and heavy winds, forcing authorities to shut down financial markets, government offices and schools.
Disaster management officials said at least 370,000 people have been moved to safer locations and that rescue teams were trying to pull people out of fallen debris.
"The wind is very strong, stronger than the rains. It's something that I've never experienced in the past," Mark Leviste, vice governor of Batangas province south of the capital, said in a radio interview, according to Reuters.
The country is still recovering from the devastating impact of Typhoon Haiyan last November, which killed more than 6,000 people.
In Tacloban, which suffered the worst damage and loss of life from typhoon Haiyan, thousands of people living in tents in coastal villages have been evacuated to higher ground, the news agency reported citing Oxfam officials.
"They are scared because their experiences during Haiyan last year are still fresh ... Now they are evacuating voluntarily and leaving behind their belongings," Oxfam official Rhea Catada told Reuters.
In Manila, more than 200 international and domestic flights were cancelled and reports said a Singapore Airlines Boeing 777 suffered damage in the strong winds that pushed the aircraft five metres across the tarmac, causing it to hit parked equipment.
However, the typhoon did not cause heavy suffering in the capital area, Richard Gordon, chairman of the Philippine National Red Cross, said.
"We have not received reports of major flooding in Metro Manila because the typhoon did not bring rain, but the winds were strong."
© Copyright IBTimes 2023. All rights reserved.