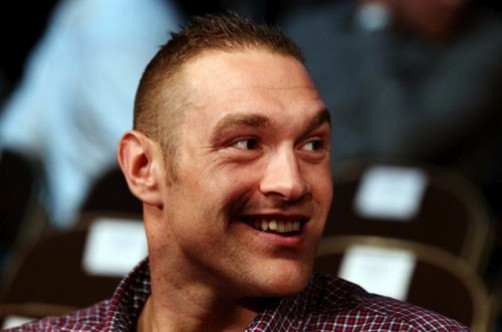 Tyson Fury proves he's not yet ready for the Klitschkos
Steve Cunningham may have been left flattened with a brutal right hook from Tyson Fury on Saturday night in New York but it was erratic performance from the undefeated heavyweight which proves he has some way to go before he can challenge the division's elite. Fury appeared overzealous and without the calming instructions of his uncle and trainer Peter in his corner, he had looked surprisingly open to Cunningham's overhand right. Too often his left hand dropped low after he threw a jab and his defences looked wild. However, credit is due as the 6ft 9" Brit began to improve his work by using his significant weight advantage to lean and tire his American opponent. When the finish came it was clinical - a right hook that was perfectly timed and delivered with real menace. Tyson proved he can entertain both in and out the ring, but at 24-years-old, and with just 24 professional fights under his belt, he is still learning his craft. The Klitschko brothers are ring generals who will punish the slightest mistake. They are elite level fighters, and while Fury is slowly improving with each fight, there should be no rush to put him in the lion's den.
Saul Alvarez is the real deal
You would have thought that a fighter boasting a 41-0-1 record would have little to prove but that was not the case with Saul Alvarez. Despite dispatching every fighter put in front of him there was a suggestion that El Canelo had still not been tested. Austin Trout, a hugely respected and talented fighter, was meant to be the fighter that could exploit the Mexican's floors but even he admitted after the fight that the best man had won. The 22-year-old now holds the WBA and WBC light middleweight titles and is regarded as the top man in the division. It is hard to make a case for anyone beating him at that weight and we now look forward to seeing how he progresses through the divisions. At such a young age, and with a naturally big frame, it seems likely that Alvarez will move up through the divisions and with the likes of Sergio Martinez, Gennady Golovkin and Julio Cesar Chavez Jnr at 160lbs, there are some very exciting future fights for the Cinnamon Kid.
How good is Nathan Cleverly?
We are still waiting for answers to this question after another lop-sided points victory for Nathan Cleverly. No-one is quite sure whether he are dealing with a truly world class boxer or a fighter who has simply dispatched a lower level of opponents. The main criticism of the Welshman is that he has never ripped a title away from anybody, the British, Commonwealth, European and WBO titles were all vacant when Cleverly won them. It is true that he has not fought any of the big names in the division, such as Bernard Hopkins or Chad Dawson, but he has rarely been tested. Hopefully within the next 12 months we will have a genuine idea of Cleverly's level and where he belongs in the pantheon of great British champions. Should he unify the division then he may well go some way to emulating his good friend and legendary fighter Joe Calzaghe.
Brian Rose and Lee Selby prove title credentials
Victory over former world champion Joachim Alcine in Blackpool went a long way to proving that Brian Rose can now be considered a contender in the light middleweight division. The 28-year-old is targeting WBO champion Zaurbek Baysangurov after winning the Inter Continental strap on Saturday night. The Russian is a very realistic target for Rose and if Matchroom can persuade the champion to come over to the UK then Britain may well have another world champion on their hands. Rose's stable mate Lee Selby also showed his quality as he retained his Commonwealth featherweight title with a fifth round stoppage of Corey McConnell. The Welsh fighter is viewed as one of the most naturally gifted on these shores and it may soon be time to step him up in level. European champion Alexander Miskirtchian could well be on the radar, while it surely won't be long before world opportunities beckon.
Frank Buglioni establishes himself as one of Britain's most exciting talents
He may only have had eight professional fights but there are plenty of reasons to be excited about super-middleweight Frank Buglioni. The 24-year-old has the charisma and Italian good looks that make him marketable outside the ring, while his skills inside it have made him a true crowd favourite. He has a fanatical group of supporters who sing throughout his bouts and deliver a deafening atmosphere. On six occasions their support has been rewarded with a knockout as the Enfield fighter can boast genuine power and an array of hurtful shots. Having spent much of his amateur career based up in Sheffield with other members of Team GB, Buglioni is slowly making a name for himself in the pro ranks and could be the latest fighter to carry on our rich tradition of producing exciting, world class, super middleweights.