Smartphone users in south east Asia looking to get their hands on Xiaomi's large-screen Mi Note can do so through Uber's car-sharing app, getting the phone delivered to their door a day ahead of its official launch.
Xiaomi will launch the 5.7in-screen smartphone in Singapore and Malaysia on 28 July, but Uber customers in Singapore and Kuala Lumpur will be able to order the Mi Note from 27 July through the Uber app and get Uber drivers to deliver the phone to their door.
This is the first time the two companies have partnered for such a project, with Xiaomi typically selling its smartphones, tablets, TVs, accessories and smart home appliances through its own Mi.com website.
The company, which is looking to expand its reach beyond its home territory of China, recently announced its move into the Brazilian market, with Russia expected to be added before the end of 2015.
As you can see in the screenshots below, the process of ordering a Mi Note through the app is straightforward. Users simply open the Uber app, use the slider at the bottom of the screen to select "Xiaomi" (which shows Xiaomi orange-coloured Uber cars on the map equipped to deliver the new smartphone), and hit request. Payment for the phone will be charged directly to the credit card tied to a rider's Uber account and a Mi Note will be delivered to the user within a few minutes.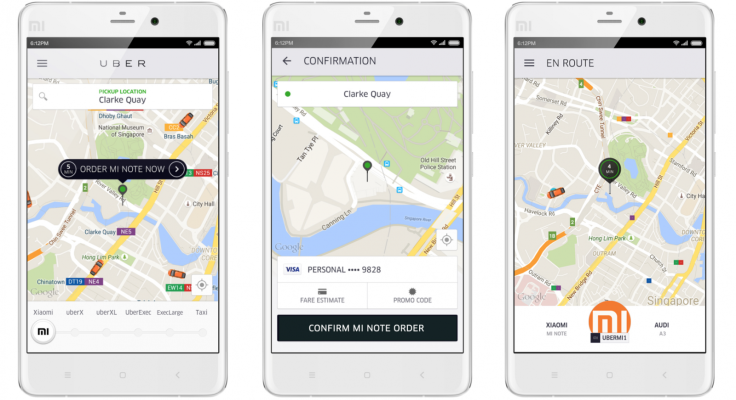 Xiaomi is clearly interested in looking to develop this unique sales model in other countries, with a statement saying: "Xiaomi and Uber are extremely well-matched to bring this on-demand delivery model to the smartphone world by combining Xiaomi's pioneering flash sale model with Uber's extensive global network in 58 countries."
While the number of countries Xiaomi sells its smartphones in is much smaller than Uber's footprint, it is growing and will need innovative ideas like this to help it make a mark in more developed and saturated markets.
Xiaomi launched the Mi Note in China in January as direct competition for the iPhone 6 Plus, which has been a huge success in the country – as attested to by Apple's recent record iPhone sales. However, Xiaomi's smartphone costs less than half the price of Apple's big phone at just 2,299RMB (£245).
More about Xiaomi