Fitness trackers have exploded in popularity in the last couple of years with the likes of Fitbit and Nike leading the way before everyone from Microsoft and Samsung to Sony and Jawbone got into the game.
Today you cannot move for fitness trackers on the market, and when you add in smartwatches which have fitness tracking capabilities, things become even more crowded.
Mi Band Specs
Auto sleep tracking.
Tracks distance/steps/ calories.
Vibrating alarm.
30-day battery life.
iOS/Android.
In-coming call alerts.
Water resistant.
Price as reviewed: £26.
And yet almost all fitness trackers will set you back the best part of £100 despite their limited set of features.
Step forward Xiaomi, the Chinese internet company which made waves in the smartphone market last year, briefly rising to become the world's third biggest smartphone manufacturer.
It has built its business on selling premium hardware at a budget price, and one of its most popular products - the Mi Band fitness trackers - has gone on sale in the UK costing just £26.
So can a £26 fitness tracker be any good?
Mi Band: Design
The design of the Mi Band is nothing to write home about. It features a central core which fits into a hypoallergenic silicone band which comes in a range of colours (orange, pink, green, blue, turquoise and black).
But a lack of design flare is not necessarily a bad thing in the fitness tracker game. It may not be as stylish as the Jawbone Up, but it is discreet and you quickly forget you are wearing it.

It is lightweight (the core weighs just 5g) and it fastens securely and comfortably on your wrist.
There is no screen on the Mi Band like the Fitbit Flex, but you do get a three-dot LED array which gives you an indication of how far towards your daily goal you are. This is activated by raising your wrist as if you are telling the time, but I found it to be hit-and-miss at best, similar to many of the smartwatches on the market today.
Mi Band: Features
Just like all fitness trackers, the Mi Band does all the basics you would expect - step counting, distance tracking, sleep tracking, calorie counting - and syncs all the data with your smartphone (both iOS and Android are supported).
Additional features include a silent alarm which you can set to automatically wake you up ahead of schedule if the Mi Band recognises that you are in light sleep rather than deep sleep.
You can also use the Mi Band as a Trusted Device with an Android phone (running Android 5.0 or above) to automatically unlock your smartphone when it's nearby.
You get incoming call alerts with the band vibrating if it notices that you haven't answered a call within a set period of time. You can also locate your Mi Band using your phone by making it light up and vibrate, which can be a very handy feature.
The Mi Band is also IP67-rated making it dustproof and waterproof, which means you don't have to take it off if you are swimming or taking a shower.
Mi Band: Battery Life
One of the best things about the Mi Band is the fact it will last you a month with charging. Compared to the likes of the Apple Watch (and all smartwatches for that matter) which gives you a single day, the Mi Band's battery life is superb.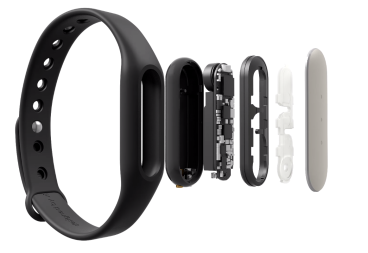 Even compared to other fitness trackers like the Jawbone Up24 (seven days) the Huawei Talkband B2 (two days), the Mi Band stands proud.
There are some devices which beat it on battery life, including the Withings Activité Pop, which promises eight months of battery life, though it will cost you almost five times as much as the Mi Band.
The Jawbone Up Move and Misfit Shine trackers also promise six months battery life.
Charging the Mi Band's battery is simply a case of using the proprietary USB charging cradle which comes with the Mi Band, and a full charge takes just two hours.
Mi Band: Software
The Mi Fit app (iOS and Android), like the Mi Band hardware, is pretty basic. Your daily activity and sleep is displayed in a basic graphical interface and tells you how long you've been using the Mi Band, how far you've walked and how many steps you've taken.
And that's about it really. There is no real insight from the sleep or activity data and this is somewhere Xiaomi could really improve with its next fitness tracker. By engaging more with users, it is more likely to keep people wearing its trackers.
Mi Band: Verdict
The Mi Band is part of Xiaomi's first foray into certain European and US markets, testing the waters and raising its profile ahead of launching its smartphones here.
Xiaomi advertises the Mi Band as costing just $14.99 (£9.60) on its website but with shipping that rises to $41 and you can only pay using PayPal, which will limit its appeal to some.
However, even at £26, the Mi Band is a well-made, comfortable fitness tracker which will do everything you expect a device like this to do, and a few other added extras.
It is not the most stylish device on the market and you won't be making or taking phone calls on it, but then again you don't have to take it off when having a shower and you only need to charge it once a month.
If all you want is basic activity and sleep tracking, then at £26 the Mi Band is the obvious choice.
Mi Band Scores
Design: 7/10 - Not hugely exciting but discreet (at least the black version is).
Build quality: 8/10 - Considering the price, this feels like a proper fitness tracker.
Display: 6/10 - No screen, and LEDs can been difficult to light up.
Software: 7/10 - Limited at best, Xiaomi needs to do better.
Value: 10/10 - At £26 this is an absolute bargain.
Overall: 8/10 - If you are looking for just the basics in fitness and sleep tracking, this is the band for you.
The Good
Budget price.
30-day battery life.
Call alerts and silent alarms a nice extra.
The Bad
Poor software.
Getting LEDs to light up is a pain.