An Australian private hire car driver has carried out his eighth citizen arrest on Uber drivers in Sydney, Australia, and plans a day of simultaneous arrests on Wednesday.
Russell Howarth, a former riot-police officer and founder of the group Arresting Uber, began his campaign against Uber last month in an effort to raise awareness of unlicensed drivers transporting passengers illegally through the UberX service.
"The Australian government has said categorically that what the drivers are doing is illegal," Howarth told IBTimes UK.
"Almost all of the arrests have followed the same pattern. The drivers complied and all said that they wouldn't have driven if they knew it was illegal."
Uber operates a variety of driver services across more than 200 cities in 45 countries but has faced significant resistance from private hire car firms and taxi organisations around the world. The UberX service markets itself as the "low-cost Uber" through which individuals can use their vehicles to transport customers without the need for a "vehicle for hire" license.
The Australian government has said that unlicensed drivers offering the UberX service could face up to $(AUS)110,000 (£60,000).
"Here in New South Wales we have been very clear that it is illegal for drivers to participate in what we call 'ride-sharing' activities like UberX," Australian Transport Minister Gladys Berejiklian said in a statement.
Despite promises to initiate legal action against motorists engaged in driving for UberX, Howarth was frustrated by the lack of action from authorities and decided to take matters into his own hands.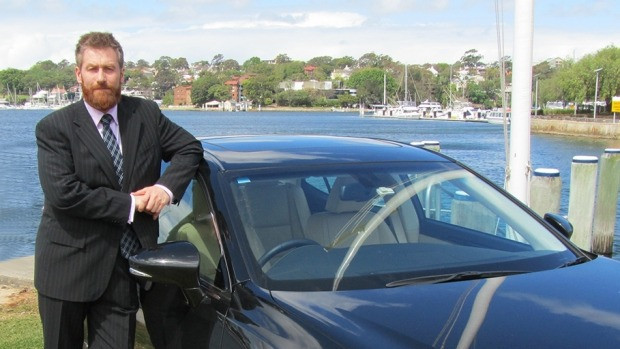 "Uber commits more offences and makes more money than any organised crime group in the world," Howarth told IBTimes UK in October following his first citizen's arrest. "The enormity of the illegal activity of Uber is incredible."
Howarth makes the arrests by hiring drivers through the Uber app and informing them that they are operating illegally. New South Wales police are now carrying out investigations into the offences, according to Howarth's legal adviser Stephen Mainstone.
"It isn't yet clear if proceedings are underway but one outcome could be a fine similar to a traffic infringement," Mainstone told IBTimes UK. "The other outcome would be that of a court summons."
Five other Sydney-based private hire drivers have apparently contacted Howarth to join his campaign and a day of simultaneous arrests has been planned for Wednesday. Howarth is wary of such efforts transforming the campaign into a "lynch mob" and is in meetings with interested parties to organise future arrests effectively.
"As an individual I can't stop them but I'm reluctant to get others involved due to any complications that might arise," Howarth said. "If any act in a heavy-handed manner then attention could quite easily fall on them rather than Uber."
Uber has said that it is not appropriate to comment on the police investigation into the matter but has reiterated that it believes there is ambiguity surrounding ride-sharing services in Australia.