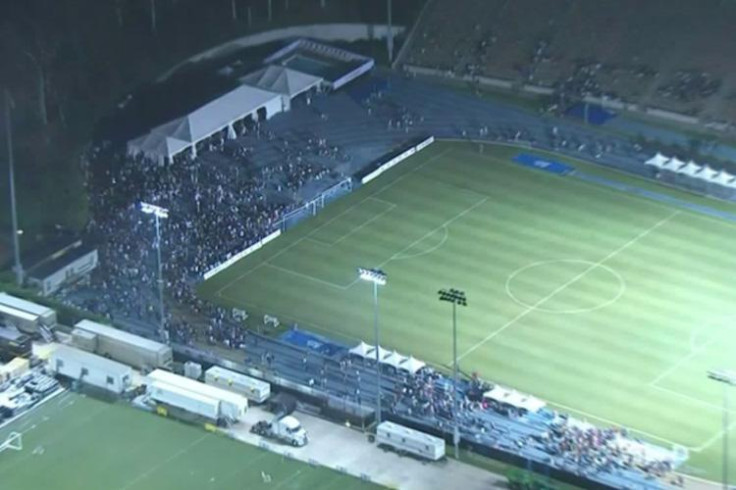 The training base of Real Madrid and Manchester United football teams during their pre-season tour in the US has been evacuated following a bomb threat.
Thousands of students were told to leave their dormitories at University of California Los Angeles (UCLA) at around 10pm local time on Wednesday (12 July).
The bomb threat was reported at the university's Sunset Canyon Recreation Center after being phoned in to the campus police station's dispatch centre, police said.
"Residents are requested to remain indoors unless otherwise instructed. Avoid the area until further notice," the university said in the tweet. "Situation is still active," it tweeted about 30 minutes later.
The all-clear was given shortly after midnight after searches involving bomb-detecting dogs found no explosive devices. It is still unclear who or what group made the threat.
Josh Harmon, 16, a pre-college student at the university said he was one of about 2,500 people who were evacuated from dormitories and campus buildings to Drake Stadium. "A lot of people are on their phones. It's pretty relaxed," he said in a phone interview with Reuters.
No one was reported injured, and authorities said evacuation plans went smoothly.
The university's sports facilities have this week been used by Real Madrid and Manchester United for pre-season training, but it is understood neither team were present when the bomb threat was made.
Jose Mourinho's Man Utd team face LA Galaxy on Saturday, while Real Madrid will play Manchester City in Los Angeles on 26 July.
UCLA said in a statement: "UCLA received a bomb threat on Wednesday evening and, as a precaution, ordered residents evacuated from campus housing at about 10:10 p.m.
"Many of the residents who were affected gathered safely in Drake Stadium while emergency responders checked campus facilities. No suspicious device was found. At 12:20 a.m. on Thursday, residents were allowed to return to all residence halls at UCLA.
"Police are continuing to investigate.
"UCLA is currently in summer session. Residence halls are occupied by a mix of summer students, visitors attending camps and workshops and faculty members who live in quarters on The Hill."