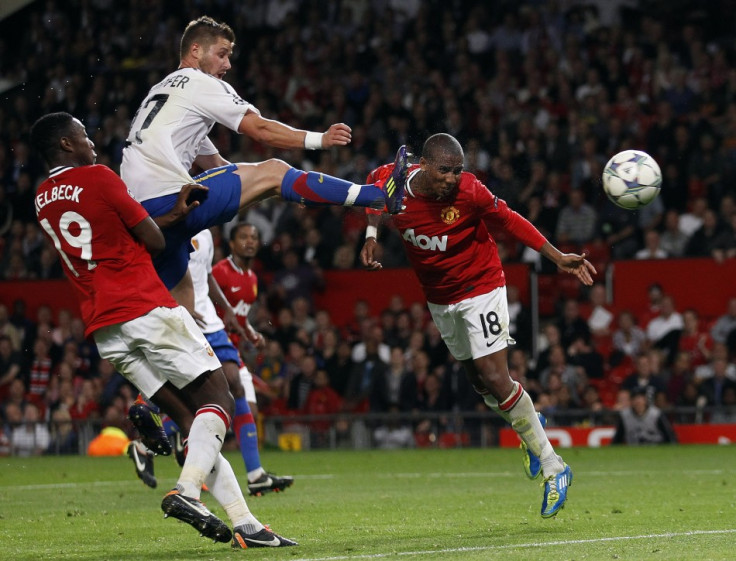 After losing out to Barcelona in the 2010/11 Champions League final at Wembley in May, Manchester United needed to learn the lessons from their defeat. Manchester United's start to the Premier League has been outstanding but their start to the Champions League has been disappointing.
Last night Manchester United were held at home to FC Basel and found themselves 3-2 down in the second half after leading the game 2-2. Only a late header from Ashley Young spared their blushes but did it really? Has their start to the competition been just a blip or is it the case that with the squad that Sir Alex Ferguson has at his disposal, Manchester United do not have the required ability to win the competition this season.
Lack of Quality Defensive Midfielder
What was worrying from Manchester United during their 3-3 draw with FC Basel was how easy the Swiss champions were able to break on them. Wave upon wave came forward and there wasn't a player in the Manchester United midfield that had the discipline to sit and hold their position. Manchester United's desire to play the expansive game will see them through against lesser teams but a team of genuine quality would have torn Manchester United apart last night.
Lack of Defensive Experience
There is no doubt that Manchester United has some of the most promising young defensive players in the game at the moment. However, their lack of experience will cost the club this season. David De Gea as of yet has been unable to command his eighteen yard box and Phil Jones, though great on the ball, was turned and manoeuvred too easily last season. If Rio Ferdinand and Nemanja Vidic pick up injuries at the end of the season, a team full of movement and pace will cause the Manchester United back line serious issues.
Attacking Options
If Manchester United were to lose Wayne Rooney and Javier Hernandez for a significant period of time, they could run into problems at the later stages of the UEFA Champions League. Last night Danny Welbeck stepped up o the mark and his performances so far this season will excite Manchester United fans. However, in a big game situation it is not beyond the realms of possibility that Sir Alex Ferguson would opt for Dimitar Berbatov whose pedigree in Europe is appealing. Can Manchester United rely on a player who has failed to net a Champions League in three years?
Goals From Midfield
Does Manchester United have a player that can score five or six Champions League goals from the central midfield area? The top teams in this season's Champions League do. You would expect Andres Iniesta, Frank Lampard, Kaka and Wesley Sneijder to hit these targets. Can the same be said about Anderson, Michel Carrick or Tom Cleverley? From wide, Manchester United look one of the best sides in Europe, however through the middle Sir Alex Ferguson's side has some major flaws.