18:53 That's us done. Big thanks to all those (few) who joined us. Its been emotional. Good luck England and the Republic of Ireland.
18:50 Tweet @NickyD82 'Last time #Greece was the opening game at Euros. Things turned pretty well #euro2012' (Wishful thinking)
18:47 The head coaches of the teams in Group B Germany's Joachim Loew, Denmark's Morten Olsen, Portugal's Paulo Bento and Netherlands Bert van Marwijk (L-R) pose for a picture after the draw for the Euro 2012 soccer championship at the Palace of Arts in Kiev December 2, 2011. (EURO 2012 DRAW) REUTERS/Kai Pfaffenbach.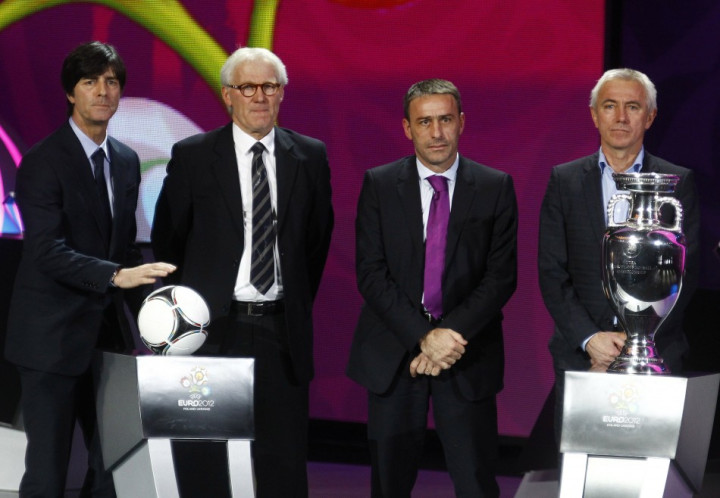 18:45 Can't show this goal enough...
18:38 Ireland in 1988 against England.
18:37 England are 8/1 to win the tournament. Down from 10/1. I can't afford lunch but definitely worth a fiver. Republic of Ireland...66/1 to win it. 4/11 to get through the group stage (SkyBet). Spain are the favourites (13/5), Germany (7/2) and England in third.
18:37 Tweet @DickinsonTimes 'The anticipation of Italy v Spain, England v France, Germany, Holland and Portugal together underlines madness of diluting euros to 24 teams'
18:33 Ireland play Croatia (10 June), Spain (14 June), Italy (10 June) ...Not a lot of luck for the Irish but you can bet they will bring plenty to the tournament on and off the pitch.
18:30 (Why I am still doing the time) Tweet @antmbv '188 days to #euro2012 woo hoo!!! #ireland'
18:27 Phil Babb, Brian Kerr and Hoddle have picked Germany to win. Alan Smith has gone for Holland. Hoddle is very, very pleased with England's draw.
18:25 The Sky Sports team are still going. A lot more insightful then the BBC's coverage it must be said. All wearing suits and ties (Martin Keown take note).
18:23 Spain against Italy, and Netherlands against Germany look like two of the best games. Obviously England versus France will have a certain Je ne Sais Quoi. @Thomasnicolson has just eaten his fifth doughnut.
18:21 England to play France in their opening game, followed by Sweden four days later on 15 June and then finally the hosts Ukraine on 19 June.
18:16 Capello wanted to avoid Spain, Germany and the Netherlands in particular so he must be happy. He did actually name nine sides he would have liked to avoid but less of that.
18:13 Glenn Hoddle, Alan Smith, Phil Babb, Brian Kerr discussing the draw. Ireland have it tough, England quite pleased, but all the groups are hard. They looks like the worst boy-band ever.
18:08 The office is digesting England's group and some doughnuts. Generally pretty pleased with both.
18:05 Winner of Miss Universe from earlier - 'She is so hot, I love her' Tom Nicolson (lives with his girlfriend).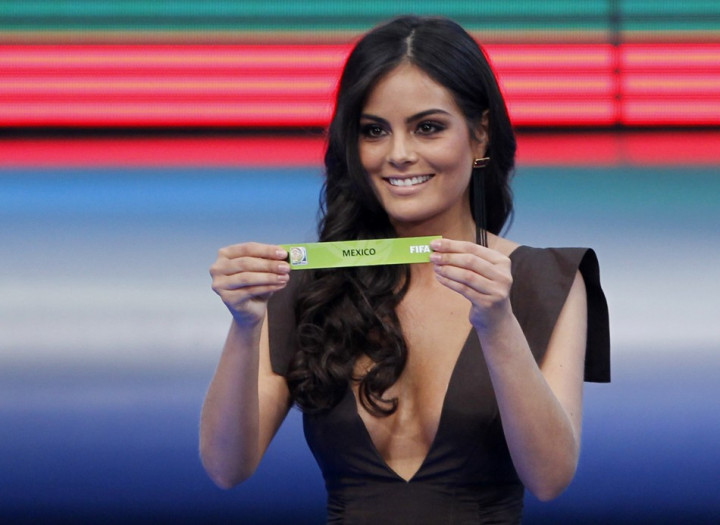 18:03 Tweet @Pearcesport 'England will play their matches in Donetsk, Kiev and Donetsk again. Worst result for travel distances from base in Krakow'
18:00 Tweet @henrywinter 'So Rooney definitely misses France (June 11, Donetsk) and Sweden (Kiev, June 15) games....possibly Ukraine (Donetsk June 19)'
18:00 In fairness the BBC have made that pretty painless. In short, England can be pretty pleased with that.
18:00 Tweet @jonathanmedd 'Capello has no excuses with that draw. #euro2012'
18:00 'Group A is the easiest' Mark Lawrenson. Very insightful.
17:58 Official song about to kick off - Endless Summer. Where is Terry Wogan.
17:57 Tweet by @JonathanStevenson 'The Group of Life: Poland, Greece, Russia, Czech Republic'
17:55 England will probably be quite happy with that. France are decent outfit, but not bad all things considered.
Group A
1 POLAND
2 GREECE
3 RUSSIA
4 CZECH REPUBLIC
Group B
1 NETHERLANDS
2 DENMARK
3 GERMANY
4 PORTUGAL
Group C
1 SPAIN
2 ITALY
3 REPUBLIC OF IRELAND
4 CROATIA
Group D
1 UKRAINE
2 SWEDEN
3 FRANCE
4 ENGLAND
17:56 England have Ukraine, Sweden and France.
17:55 Zidane looking cool. Always.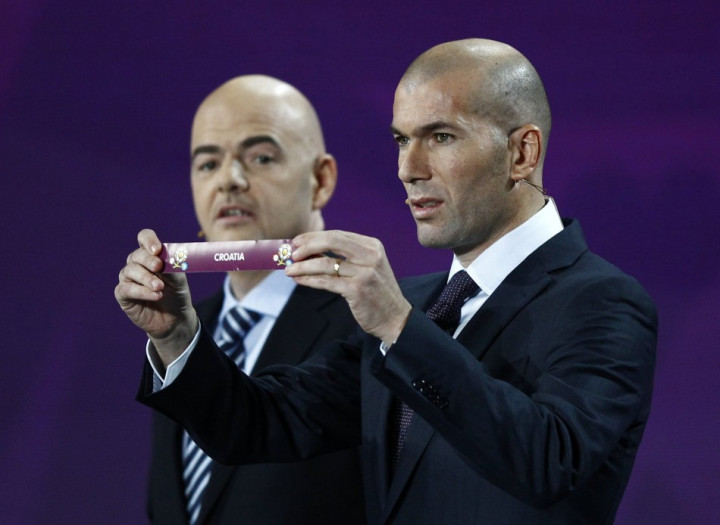 17:52 Marco Van Basten looking suitably cheesy.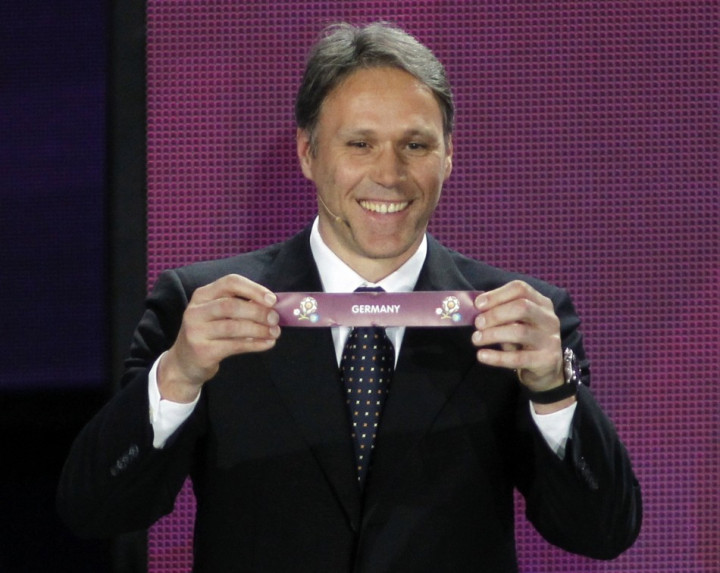 17:51 England held its breath...Russia sadly. On to the next one.
17:46 Actually got excited when France came out the hat.
17:38 They are running through the science of the draw. Here is a picture of the some the dancers from earlier.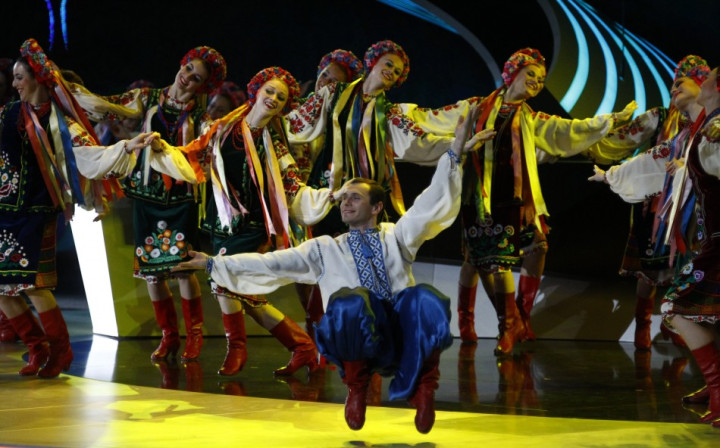 17:35 Gary Speed being mentioned now. About time something of note happened. Really sad news that has clearly rocked the footballing fraternity.
17:34 Really hotting up now. Peace running through the 16 countries. Platini has appeared. What a player he was.
17:33 Sergei Bubka: The "ball is really good"...thank you Sergei.
17:29 Jonathan Pearce is doing a great job. Making this whole process sounds less ridiculous then it actually is.
17:22 Zidane in action 2000.
17:20 Manchester United legend Peter Schmeichel is on stage. The Big Dane. Oliver Bierhoff is also on stage but the big man has arrived, not Rooney, its Zinedine Zidane.
17:20 A former German footballer is now on stage. They are all holding footballs. This is a football tournament.
17:20 Lots of black and white footage of 1968. Italy won it.
17:14 England Finest Hour in the Euros - Stuart Pearce's penalty EURO 1996
17:12 Tweet Here we go T -30 mins to the main event. #Euro2012 #talksport
17:12 Tweet by someone suitably impressed thus far: 'Here we go T -30 mins to the main event. #Euro2012 #talksport'
17:09 A really nice montage of some of the stadiums and some very smiley children. Jonathan Pearce now introduces a lady called Jamala with her song called 'Goal'.
17:05 Two suitably anonymous presenters introduce another man in a suit. Jonathan Pearce, of robot wars fame, is translating. It's a big important tournament for the Ukraine and interestingly a bottle of beer will cost just 80p. Bad traffic jams all over the city. Everyone is confused.
16:47 "Always entertaining affairs these draws." Lineker surely lying through his teeth.
16:45 Gary Lineker is still sporting a bit of left over from #Movember by the looks of it. That or the former England international is just lazy.
16:43 Five members of the female feminist group Femen staged an eye catching protest outside the Olympic Stadium in Kiev earlier today. Have we peaked already?
16:41 How about some quirky facts about Poland and the Ukraine to get you up for your weekends...
16:39 England could feasibly get drawn Spain, Portugal, and France, if so these five players will probably help engineer England's exit.
16:35 To kill a bit of time why not check out a remarkably generic preview of the draw.
Preamble: 16:29 GMT Unless he is a big fan of euro-pop, lavishly over the top staging and high-camp introductions to luminaries of the European Championships' glorious past, Fabio Capello will inevitably have to negotiate the monotony of a predictably tedious opening ceremony before learning who England will face. But if that's your bag, join the IBTimes UK for Friday's European Championship 2012 Draw in Kiev, as Fabio Capello nervously awaits the fate of his much maligned England side....
Email your thoughts to b.moss@ibtimes.co.uk and t.nicolson@ibtimes.co.uk
Or Follow @Benmosssport and @Thomasnicolson on Twitter for updates...