The UFC have confirmed that heavyweight champion Stipe Miocic will defend his title against Junior Dos Santos at UFC 211 at the American Airlines Center in Dallas, Texas.
The title match — which is likely to be the main event — will be a rematch of the bout that took place in a UFC on Fox event in December 2014 where Miocic suffered his last loss in a close unanimous decision.
Miocic has since gone on an impressive four fight win streak, defeating the likes of Mark Hunt and Andrei Arlovski before upsetting Fabricio Werdum at UFC 198 in Brazil to win the heavyweight belt.
The 34-year-old then successfully defended his title in his hometown of Cleveland, Ohio, against Alistair Overeem at UFC 203.
Following his title defence in September 2016, Miocic spoke out on his anger that he was out-earned by Overeem in Cleveland.
"You're making money off me in my hometown, and you're giving the man that's a challenger who's never won the title in the UFC, you're giving him more money?" Miocic said as quoted on MMAFighting.
"It definitely should change. But the fact that my challenger made more money than me in my last fight was just kind of a slap in the face."
Since beating Miocic, number four ranked heavyweight Dos Santos has only fought twice, with a loss against Overeem and a unanimous decision win over Ben Rothwell — with the 32-year-old's last fight being in April 2016.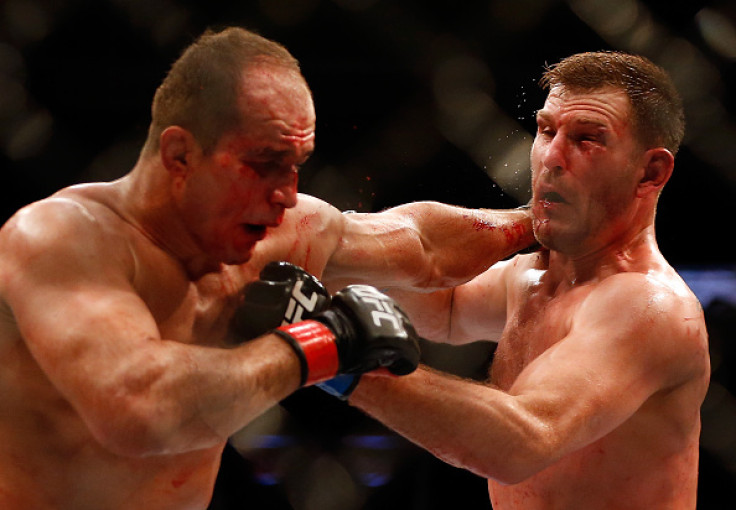 Miocic will be looking not only to defend his title a second time but avenge his loss against Dos Santos on 13 May. Another fight expected to be on the card is a heavyweight number one contender's bout with Werdum facing Rothwell according to MMAJunkie.