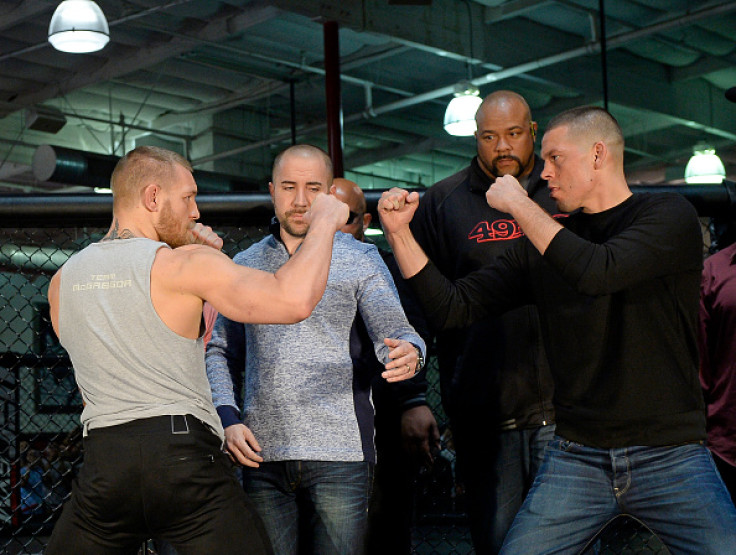 Ultimate Fighting Championship (UFC) President Dana White has revealed that Conor McGregor is desperate for a re-match with Nate Diaz and is 'obsessed' with it. McGregor has been keen for a rematch since losing to Diaz at UFC 196.
Speaking to ESPN's Sportscenter, White confirmed that the featherweight champion wants to try and avenge his loss, and like the original, this clash would be a non-title affair which would be contested in the 170-pound welterweight division.
"We're working on what's next for him. We're trying to set up a fight right now. It's been little challenging. Obviously the fight he would love to do is the rematch with Nate Diaz. I'm trying to get the deal done."
McGregor suffered the first loss of his UFC career at the 196 event, where the American ended his unbeaten streak after beating him via submission. Since then the pair have renewed their rivalry over social media, with the two supposed to face off at UFC 200 but the clash has since been scrapped.
The Irishman had then flirted with the idea of fighting now retired professional boxer 'Floyd Mayweather' with the 39-year-old's camp in particular, saying that the fight would happen. White has said that Diaz is still McGregor's preference, as he wants revenge for his loss at UFC 196.
"Conor is obsessed with this rematch. I don't know why, but he is. It's just his type of personality. He's obsessed with it. He's obsessed with fighting Diaz again - at 170 pounds. I don't know if the fight will ever happen, but I'm trying."