Nate Diaz has explained his attempts to obtain a boxing licence were to gain leverage over the UFC and not a cheap attempt to replicate rival Conor McGregor.
McGregor was granted a boxing licence by the California Athletic Commission last December, a move that reignited talk of a multi-million dollar showdown with Floyd Mayweather inside a boxing ring. That fight has continued to dominate the fight agenda in 2017, but reports at the start of the year suggested Diaz, the man McGregor went to war with in the Octagon in 2016, would follow suit.
In January, the Nevada State Athletic Commission confirmed to ESPN that Diaz's people had been in contact over obtaining a licence and had filed the required paperwork.
Diaz, who has not fought in UFC since his majority decision defeat to McGregor at UFC 202 last August, now insists his efforts to get a licence to box have nothing to do with McGregor.
"The thing was, I was in some negotiation issues with the UFC and I was talking to some boxing promotions and stuff," Diaz told NBC. "I talked to the UFC about it and they were not having it at all.
"Recently they've got that Conor thing with Floyd Mayweather and it is going viral. I said: 'Hold on, this is the same thing I tried to do years ago and you're going gung-ho about it with him and but you never let me.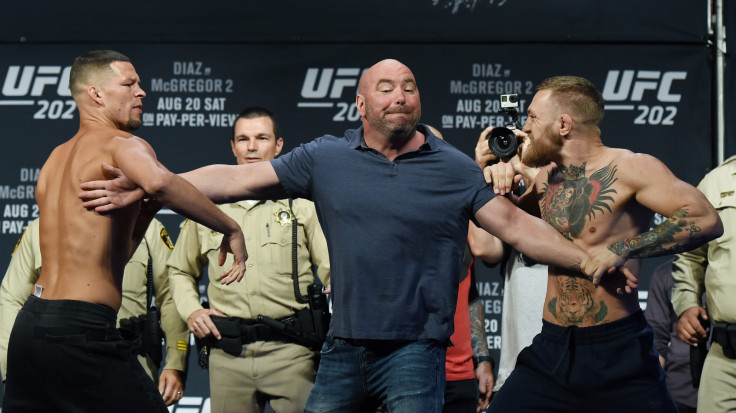 "So I'm like: 'If he's got his boxing licence, I don't even want nothing to do with that fight but I am wanting mine too and to get in on that, you know? And if they are not going to let me get on it, then I think it'll show."
While Diaz has recently backed McGregor, insisting the Dubliner has a chance of beating Mayweather inside the first three rounds if the two are to meet in the boxing ring, he has been quick to remind his former opponent of the first time the two squared off.
After Rafael dos Anjos pulled out of his fight with "The Notorious" in March for UFC 196, Diaz took his place with just 12 days' notice, going onto shock the MMA universe as he made McGregor tap out with a brutal rear-naked chokehold, having already clocked the Irishman with his infamous Stockton Slap.
Diaz shared that moment again with his 1.5m followers on Instagram on Sunday, with the bad blood between the two seemingly far from over.