UFC: 'Ronda Rousey too vain', she won't come back says Bethe Correia giving up hopes of a rematch
Correia wants a rematch with Rousey to avenge her 34-second loss at UFC 190.
Bethe Correia wants a rematch with Ronda Rousey but believes the American will not return to the octagon following back-to-back losses to Holly Holm and Amanda Nunes.
The Brazilian fought the Ultimate Fighting Championship's (UFC) longest reigning women's bantamweight champion at UFC 190 in August 2015. The match lasted 34-seconds in favour of Rousey, but that was her last win in the sport.
The California-native has stepped inside the octagon on two occasions, only to suffer brutal losses at the hands of Holm, when she surrendered the title in November 2015 and Nunes 13-months later, when she was knocked in 48-seconds.
Correia feels for her rival and believes Rousey had the skill-set to perform better against Nunes at UFC 207. But the Brazilian revealed that mental preparation is as important as the physical side ahead of a fight, something that was questioned ahead of the American's return to the octagon after a 13-month hiatus.
The former women's bantamweight champion's future in the UFC has been in question ever since her loss. She is yet to indicate if she will return for another fight, but Correia feels she does not have it in her to make a comeback after suffering back-to-back losses.
"I really didn't know how Ronda would return," Correia told MMA Fighting with regards to Rousey's title fight with Nunes. "I think she had the skills to fight Amanda and win, but I didn't know how she would be. A fight is not just about what you train, half of the fight is your head. You can have the best camp or your life but you're not mentally there, nothing works."
"I'm her rival, I'm her enemy in the sport and in the personal area for everything that happened between us, but even enemies respect each other. The way she lost, I felt what she felt. It was similar to what I went through, a sub-minute loss, being caught in a way that you lose control.
"The same criticism she had to face I had to deal with, too. Being called an arrogant, that you bit your tongue. People said she was never that good, like people said about me. I felt that. I know I could have done better against Ronda, and I know Ronda could have done better against Amanda.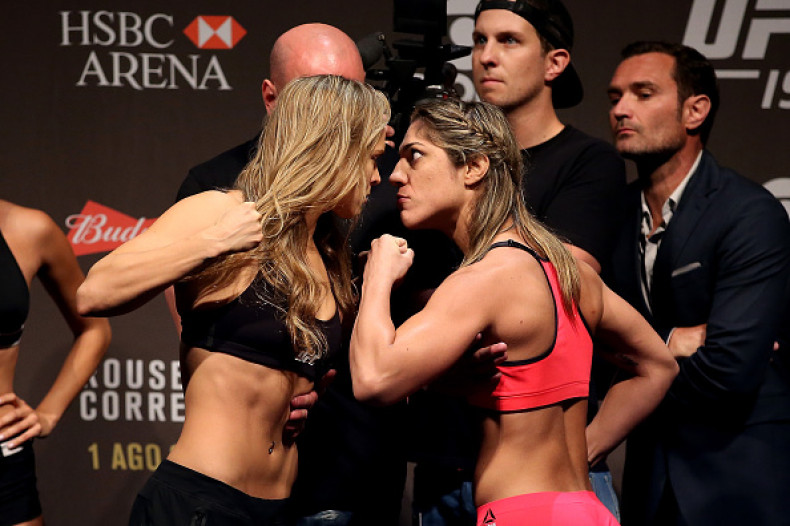 "I hope she would come back because I want a rematch with her," Correia said keen to avenge her loss at UFC 190. "We have unfinished business, things to settle. But I believe she won't come back. I always said she was too vain and wasn't mentally strong to lose. I think her vanity was an issue against Amanda. She thought she could go back and trade with her. She's too vain to accept the defeat and start over. Unfortunately, I don't think I'll have the rematch, but I'd love that."