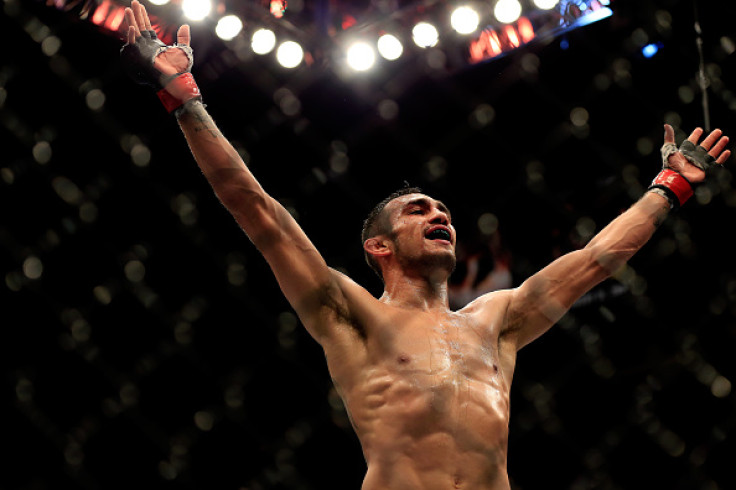 UFC lightweight fighter Tony Ferguson expressed his desire to take on Nate Diaz inside the octagon after his last scheduled fight against Khabib Nurmagomedov at UFC 209 was called off.
The Dagestani fighter fell ill when he was in the process of cutting down his weight to 155 pounds. He was later rushed to the local hospital, two days before the main event on 4 March and the bout between him and Ferguson for the interim lightweight title was cancelled. It was the third time the fight between the two was withdrawn.
Ferguson believes Nurmagomedov is not in a position to face him following his latest withdrawal, for which the latter issued an apology. Diaz's last fight was against Conor McGregor and the Irishman was awarded as a winner by a unanimous decision at UFC 2012 in August 2016. The "El Cucuy" has explained his decision as to why he wants to face his compatriot in his next fight.
"I'm a professional, so I'm going to try and move on from this," Ferguson was quoted as saying by the MMA Fighting.
"Trying to offer Khabib a chance to come back at it and see what his position is, but I don't think he's doing too good right now. So I'm not sure who's next man. Been kind of throwing it around the bush and I'm ready, bro.
"My body doesn't know anything different than to fight right now. So that's what I would like to do. I'd like to fight real soon. Especially for the belt."
"I'm just throwing a name out there, but I think Nate Diaz and myself could actually put on a good show.
"I think his ranking is kind of bullshit too, but I don't really see anybody else. I mean, Edson Barboza called me out, but it is what it is.
"Everything's in the air right now. I want to fight for the title. I want a fair fight, I want to go in there and kick this dude's ass no matter who's signed to the dotted line, and fucking move on. And kick Conor's ass. I don't know what he's up to, but lets just go."