Uganda elections 2016: Opposition leader Kizza Besigye claims he is not responsible for death of supporter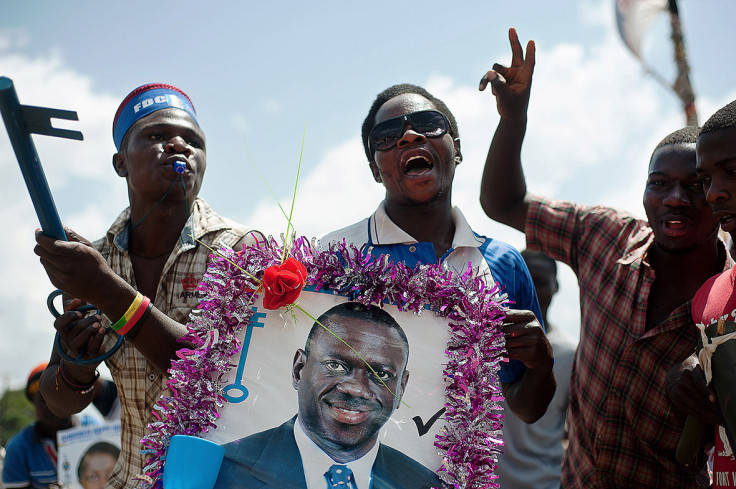 Uganda's leading opposition figure Dr Kizza Besigye has said he is not responsible for the death of one person in Wandegeya in street clashes pitting his supporters and police forces, in which several other people were injured.
Political tensions are running high as 15 million Ugandans prepare to head to presidential and parliamentary elections on 18 February, in which President Yoweri Museveni, who has ruled Uganda for 30 years, will be competing to win his fifth term in office.
"I do not feel responsible for the violence that happened between my supporters and the police. The young man who was shot and killed will be mourned and declared a hero," Besigye, who heads the Forum for Democratic Change (FDC), said during a press conference in Kasangati on Tuesday (16 February).
These elections also come in dwindling political space in Uganda, where police have arbitrarily arrested political opposition leaders, and Besigye, who was campaigning in the city, was arrested for disrupting traffic before being released without charge. Facing Museveni in the upcoming general elections are Besigye – and Amama Mbabazi, a former prime minister and founder of Museveni's National Resistance Movement (NRM) party, who is running under the GoForward banner after failing to win the NRM nomination from Museveni.
Wave of arrests in the opposition
In the past year, Ugandan security forces have arrested both Amama Mbabazi and Besigye, either on their way to meetings or rallies in July, while Besigye – alongside a dozen other party officials – was also arrested in a dawn raid and held again in October 2016 on a 'public order charge'. He is also reported to have been shot at by police.
Besigye was again arrested on Monday (15 February) along one of the main highways, Jinja Road, after he was scheduled to address a rally at Nakivubo stadium. After Besigye claims he was denied access to the stadium, he headed to the city centre to resume his campaign, but witnesses said his convoy was blocked by police vehicles.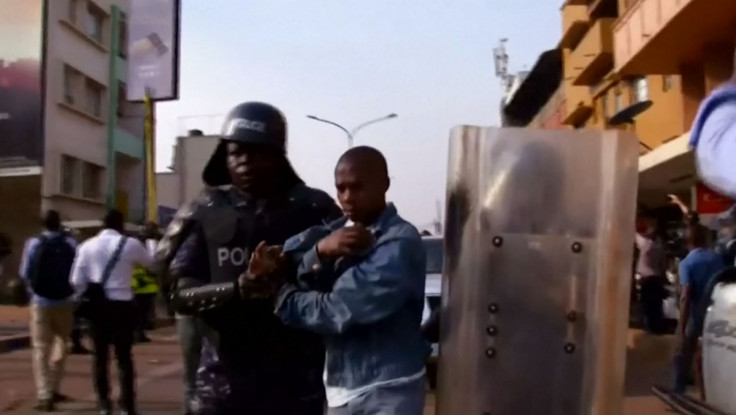 Local reports also cited witnesses saying police fired tear gas to disperse hundreds of supporters, who were escorting him and chanting his name.
Museveni said in a statement that Besigye was arrested for defying police orders. The opposition leader was later released without charge. Besigye told reporters on Tuesday that he will "continue with the struggle" if he loses as "no single poll is credible if done in an environment with intimidation".
Human rights violations, intimidations
Human Rights Watch recently documented multiple instances of human rights abuses, including torture, extortion and arbitrary arrests, which it said were used as a instrument "aimed at intimidating or reducing support for the political opposition".
Civil society is discouraged from criticising the government because of the existence of "broad and vaguely worded laws criminalizing various contents of speech". A 2013 law also effectively bans the freedom to assemble, ordering organisers of "public meetings" to notify the police three days beforehand with details about time, place, route and attendance.
The rights organisation described the human rights situation in the East African nation as "pos(ing) serious risks for free and fair elections and the ability of Ugandans to freely exercise fundamental human rights".
Candidates are holding final rallies on Tuesday 16 February ahead of the polls.
Check out our Flipboard magazine - Uganda Up Close
In this series on Uganda, IBTimes UK takes a closer look at the electoral environment in the run-up to the 18 February embattled elections, whether during campaigns, on polling day, or in the crucial period afterwards.
© Copyright IBTimes 2023. All rights reserved.