Ugandans have not had a free and fair election for at least the past 20 years, a human rights group has claimed.
Political tensions are running high as 15 million Ugandans prepare to head to presidential and parliamentary elections on 18 February, in which President Yoweri Museveni, who has ruled Uganda for 30 years, will be competing to win his fifth term in office.
New research compiled on rights abuses in Uganda since 1997, meanwhile, has revealed that human rights violations in Uganda for the past 20 years have affected the electoral environment, whether during campaigns, on polling day, or in the crucial period afterwards.
Abuses are 'serious risks for free and fair elections'
Human Rights Watch (HRW), which published the findings on 11 February, said the East African nation's human rights situation "poses serious risks for free and fair elections and the ability of Ugandans to freely exercise fundamental human rights".
The organisation has documented rights abuses during the past elections of 2001, 2006 and 2011, which HRW says were "marred by allegations of vote rigging, often excessive use of force by security forces and threats to the media, intimidation and violations of free assembly, expression and association".
"Parties participating in Uganda's elections should engage only in peaceful political expression and ensure that it and its supporters don't rely on violence or intimidation," Maria Burnett, HRW's senior Africa researcher said.
"Security forces are legally obligated to respect peaceful protest, to show restraint, and to use only proportionate force in response to any confrontations. Laws should be enforced equally for everyone, including security officials."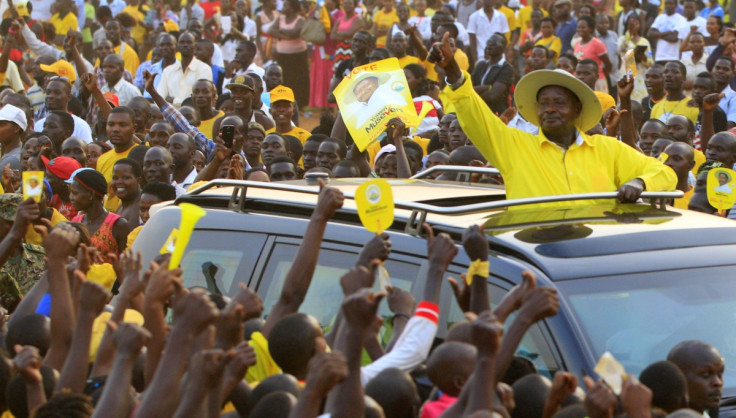 Intimidations: the work of NRM militias?
In the run-up to the polls, for instance, experts are warning conflicting reports surrounding the 'crime preventers' could deter electors from going out to vote.
While the phenomena of 'crime preventers' is not new, a coalition of organisations, which includes Amnesty International, HRW, Human Rights Chapter Four Uganda, and Foundation for Human Rights Initiative (FHRI), describe the recruits as a special 'militia' linked to and designed to serve Museveni's ruling National Resistance Movement (NRM) party.
After documenting multiple instances of human rights abuses, including torture, extortion and arbitrary arrests, the organisations claimed the recruits are used as a instrument "aimed at intimidating or reducing support for the political opposition".
Violation of free expression: media targeted
The media have not be spared, and Ugandan security forces have been clamping down on local media for broadcasting or printing content criticising the government or highlighting key issues, ahead of the polls.
The government is facing public discontent on issues as diverse as corruption, youth unemployment and rising cost of living, but rights groups say state agencies and officials – including police, security officials and local commissioners – have been intimidating and threatening journalists to limit critical public reporting and debate.
These tactics echo those used used during previous elections, as Burnett recalled, when journalists perceived they could not do a fair and balanced work on a number of issues. "If you refer back to the 2011 elections, you'll see that some journalists and candidates were beaten and jailed. [This time] supporters will be arrested and beaten," a radio station manager from Soroti said. "It's going to be a test period for all of us."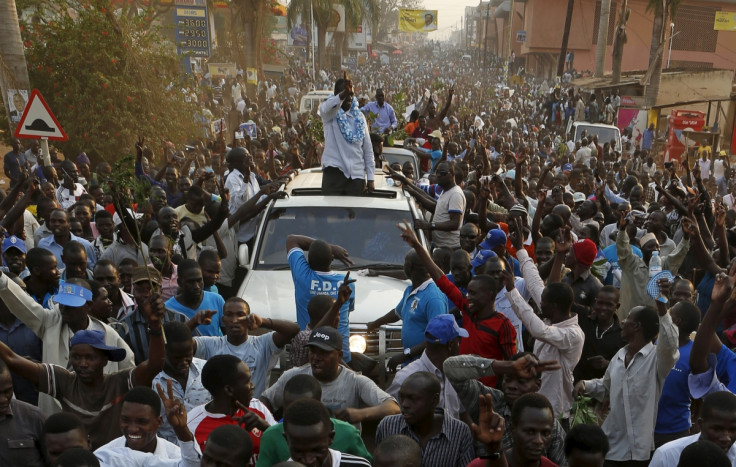 NGO bill: a threat to free assembly and association?
Rights group, including HRW, have claimed Uganda's upcoming polls cannot be fair, free and credible as a new bill, which is still to be signed off by Museveni, could further curtail the freedom of civil society groups to hold politicians accountable.
Burnett highlighted how civil society is discouraged from criticising the government because of the existence of "broad and vaguely worded laws criminalizing various contents of speech".
Investigating and exposing issues is about to become all the more difficult, as Uganda's parliament has already passed the Chapter Four Uganda Non-governmental Organisation Act Bill – dubbed the NGO Bill – on 27 November 2015. While it is not clear whether Museveni will sign the new bill into law before the elections, Burnett said it could further eat into civil society space as "it contains vague and undefined criminal offences for which NGO workers may be found liable".
Opposition faces intimidation, arrests
These elections also come in dwindling political space in Uganda, where police have arbitrarily arrested political opposition leaders.
Facing Museveni in the upcoming general elections are Dr Kizza Besigye – leader of opposition party Forum for Democratic Change (FDC) – and Amama Mbabazi, a former prime minister and founder of Museveni's NRM party, who is running under the GoForward banner after failing to win the NRM nomination from Museveni. (Read more: Who are the main candidates running for president?).
In the past year, Ugandan security forces have arrested both Amama Mbabazi and Besigye, either on their way to meetings or rallies in July, while Besigye - alongside a dozen other party officials - was arrested in a dawn raid and held again in October on a 'public order charge'.
Check out our Flipboard magazine - Uganda Up Close
In this series on Uganda, IBTimes UK takes a closer look at the electoral environment in the run-up to the 18 February embattled elections, whether during campaigns, on polling day, or in the crucial period afterwards.