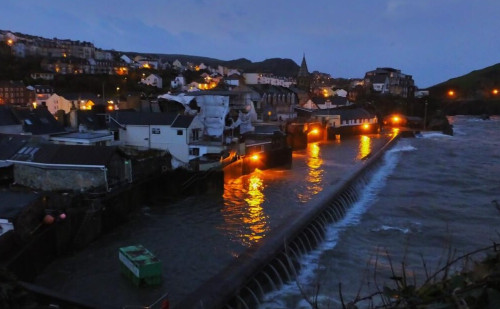 The Environment Agency has issued 21 severe flood warnings and has told people living along the west and south coasts of England and Wales to expect flooding and to take immediate action to stay safe.
At present, there are also 231 flood alerts, warning people to be prepared, and 193 flood warnings, meaning flooding is expected.
The Met Office has also issued severe weather warnings for many parts of the UK, including the west of Scotland, Northern Ireland and the west and south coasts of England and Wales.
Pete Fox, head of strategy at the Environment Agency, said: "We are expecting flooding along the west and south coasts of England and Wales, due to a combination of strong winds, large waves and high tides, from the early hours of Friday and into the weekend.
"Coastal paths and promenades could be highly dangerous as there is an increased risk of being swept out to sea. People are warned to stay away from the shoreline.
"The Environment Agency is monitoring the situation closely, working alongside partners including the Met Office and local authorities. Environment Agency teams are out on the ground making sure that flood defences are in good working order, monitoring sea levels and preparing to issue flood alerts and warnings."
"Stay away from the shoreline this evening/tomorrow. Coastal paths could be dangerous. Risk of being swept out to sea." - Environment Agency
Travel services have been disrupted as a result of the severe weather, with major delays currently being reported on South West and Southern trains.
South West Trains have said major delays are taking place between Dorking and Leatherhead, with services to London affected, and Petersfield and Haslem. Bus services are replacing both routes until further notice.
Southern Trains are also reporting major disruptions between Dorking and Leatherhead. Services between Gatwick Airport and East Croydon are being delayed, while the Ockley service between Horsham and Dorking is experiencing problems because of a major landslip.

National Rails aid: "Following the recent poor weather, there was a major landslip near to Ockley. This landslip has caused damage to the railway, preventing trains from running. Repair work is ongoing. There is no estimate for when a normal train service will resume."
First Great Western, which is experiencing flooding problems between Paignton and Newton Abbott and Liskeard and Looe, has warned of major delays to a number of routes.
Train services experiencing minor delays include Virgin Trains, which has delays between Carstairs and Lockerbie until further notice, the Gatwick Express.
Many other services are running a delayed service due to flooding across the country.
In Wales, the banks of the River Taf has burst at Laugharne, while the high tide has flooded the road through Pendine.
Some residents in Newport had to be evacuated overnight ahead of the morning's high tide – Wales Online reported that the River Usk is now very close to bursting its banks at Careleon, where it is just inches from the top walls.
The country is expecting its highest tides since 1997. High tide will start at Milford Haven at 7.20am. It will reach Newport by 8.15am, Barmouth at 9.20am and Flintshire by about midday.
In Devon and Cornwall, the highest risk of flooding is expected at high tide. In Plymouth, it will reach high tide at 6.54am, at Barnstaple at 7.05am and Dorset at 7.57am.
Huge waves are expected across the coast, with some as high as 30m hitting parts of Cornwall and the south west. The Environment Agency warned people to stay away from shorelines and coastal paths as there is a risk of being swept out to sea.