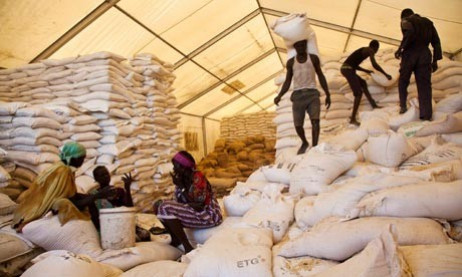 A poll by the European Commission has surprisingly revealed that the vast majority of Britons support foreign aid and believe the UK should keep its promise to increase aid to developing countries, despite the economic crisis.
The Eurobarometer survey which was published in Brussels at European Development Days, an international affairs forum organised by the Commission, draws a sharp contrast with preconceived views that Britain should cut its aid budget at a time of domestic economic austerity.
In June, the UK pledged to give an extra £375m to help feed the world's poorest children. Prime Minister David Cameron said the UK will "lead the world" in humanitarian aid to Syrian refugees: £52m was given by the UK to aid victims of the civil war in Syria, while a total of around £400m was spent on aid for the war-torn middle eastern country and its neighbouring states.
However, Ukip MEP Godfrey Bloom caused a controversy for asking how Britain could "possibly be giving a billion pounds a month to Bongo Bongo land" and papers such as the Daily Mail and the Daily Telegraph questioned the rise of almost 35% in Britain's aid budget over the past few years.
Yet the Eurobarometer survey, based on 1,314 face-to-face interviews between 25 May and 9 June 2013, portrays a different scenario. Eighty one percent of the interviewees said it is very or fairly important to help people in developing countries, in line with the EU average.
Half of the Britons interviewed, ranging from 15 to more than 55 years old, also said the UK should keep its promise to increase aid to developing countries, despite the current economic situation.
A significant proportion of British people, 60%, are willing to pay more for groceries and products that support developing countries. In line with fellow Europeans, Britons also believe that tackling poverty in developing countries should be one of the main priorities of the EU.
European Commissioner for development Andris Piebalgs said he is "very encouraged to see that EU citizens support global solidarity and believe that together we can make a real difference in overcoming poverty".
"Today's survey has a clear message: Europeans stand ready to play their role in this," he added.
However, the figures were immediately challenged by Jonathan Foreman, senior research fellow at the Westminster thinktank Civitas, who criticised "the vague wording of the questions".
"Of course British people care about people in 'developing' countries," Foreman, expert on foreign aid and author of Aiding and Abetting: Foreign Aid Failures and the 0.7% Deception, exclusively told IBTimes UK.
"This is why they give so much to charities on top of the huge amount that they give involuntarily through taxes and the government's lavish aid programmes."
"As for the supposed 'promise' to increase aid, it's not surprising that only 50% agree with it," he continued. "And this number would be much lower if they asked if Britons thought the UK should adhere to a goal of 0.7% GDP while other government services face cuts, while other major donor countries are all cutting back on aid, and when the Commons Public Accounts Committee has found that DFID is wasting millions because it cannot monitor its finances and programmes effectively."