The Muslim community in the UK has condemned the suicide bomb attack that killed at least 22 people - including children - at the Manchester Arena during an Ariana Grande concert on 22 May. However, in spite of public condemnations, reprisals against Muslims have begun, amid fears Islamophobia is on the rise.
Police identified Salman Abedi, a 22-year-old Muslim born in Manchester, as the lone attacker. Isis terror group then claimed responsibility for the attack, and authorities are now working to verify whether Abedi, of Lybian heritage, had links to extremist groups.
In the wake of the attack, several representatives of the Muslim communities in the UK condemned the bombing, offered support and participated in crowdfunding campaigns to raise funds for the victims.

"This is horrific, this is criminal. May the perpetrators face the full weight of justice both in this life and the next," Harun Khan, Secretary General of the Muslim Council of Britain said in a statement.
However, on Tuesday (23 May) evening, arsonists burned down the door of a mosque in Greater Manchester in a suspected "retaliatory" attack following the bombing.
One day later, a 14-year-old girl wearing a headscarf was shouted at on her way to the Manchester Islamic High School for Girls. "When are you going to stop bombing people?" someone reportedly shouted.
A similar incident occurred to Manchester-based imam Mohammed Shafiq. "I was stopped and told I was killing children," he told IBTimes UK. "It made me feel very sad because a minority of people tarnish everything that Muslims do. You can't hold the whole Muslim community responsible for the gesture of few extremists."
His view was echoed by Farhad Ahmad, an imam at London's Fazl mosque. On 23 May, Ahmad travelled with some fellow members of the Ahmadiyya Muslim Community to Manchester, to join a vigil for the victims of the bombing.
"Whenever such attacks are carried out, many people have questions about whether this is actually what Islam teaches. There are also some people who turn to hostility [and this] creates further tensions and divisions," he told IBTimes UK.
"I was stopped and told I was killing children"
Imams are aware of the increasing radicalisation of youths, who carry out attacks in Europe or travel to join terror groups such as Isis, al-Qaeda and Boko Haram. So what can be done to prevent radicalisation and stop young Muslims from turning to violence?
"Young Muslims look at what is happening in Libya, in Afghanistan, in Iraq and Syria, they see the helplessness and extremists brainwash them into thinking that they can use violence for political issues," Shafiq explained.
"This is what we have to confront, the ideology of violence, we have to do whatever we can to expose terrorists for what they are. We need to promote Islamic principles, what Mohammed said about terrorism, what God said about terrorism. We need to talk to young people and we need to give them a voice, it does not matter how hard and difficult it is."
Ahmad believes that promoting "the true teaching of the Quran" can help tackle radicalisation of youths, who he said often lack "real religious literacy".
"Many who travel to Syria or have carried out attacks in their home countries have no knowledge of Islam, had they even read the Quran carefully, they would realise that the Quran says "there is no compulsion in matters of religion. The Quran condemns these attacks as it says to even kill one innocent person is like killing all of humanity," he explained. He then added that the number of youths who feel disenfranchised has increased "considerably" since the 2008 global financial crisis.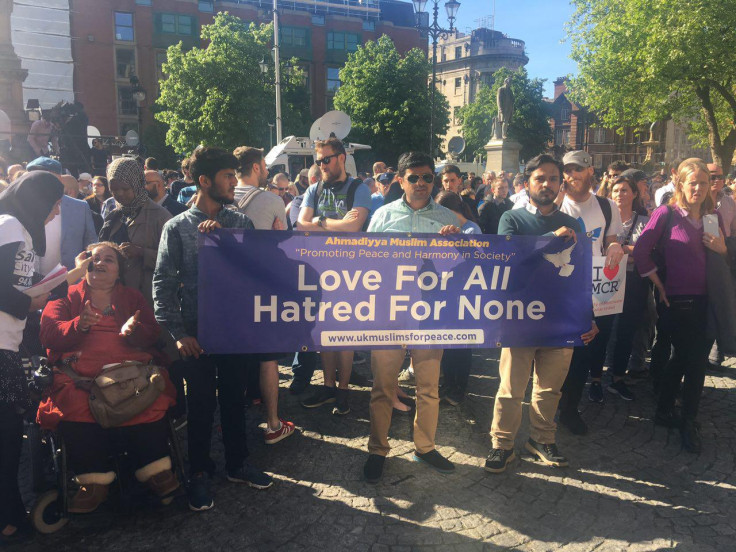 "Hate preachers portray misconstrued teachings in order to manipulate the grievances of disenfranchised impressionable youngsters," he explained.
He then said that engaging youths in community-based activities from a young age is an effective way to prevent extremists from approaching young people who might feel vulnerable and without guidance.
This is why, he says, there are hundreds of Ahmadi youth associations across the world and there is no record of Ahmadi Muslims who have turned into extremists.
"We have the biggest youth organisation in the UK called the Ahmadiyya Muslim Youth Association with over 8000 youth members and not one has turned to radicalisation. This is not just true for Ahmadi Muslim youth here, rather out of the millions of Ahmadi Muslims globally, not one has been radicalised," he concluded.