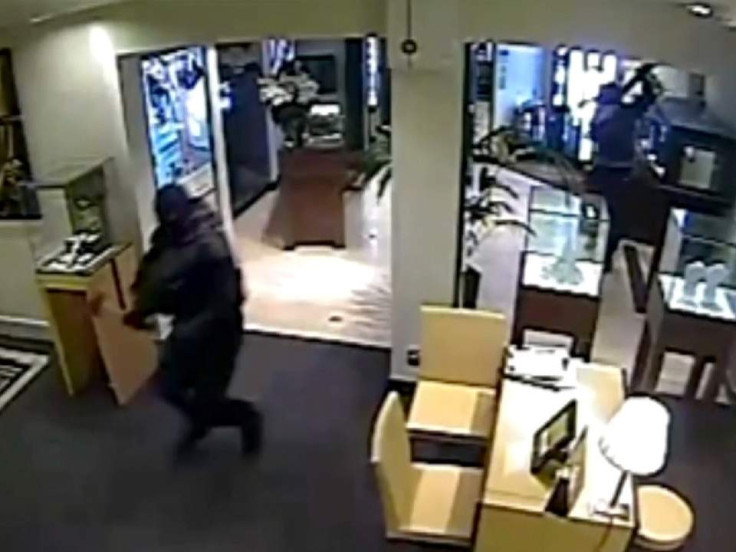 A video of armed robbers storming into a jewellery store has been released by police.
The shocking footage captures the moment an armed gang wearing balaclavas smash down the door of David M Robinson Ltd jewellers in Altrincham and storm the store.
The shop's security guard was pushed inside and ordered to lie on the ground, and a metal bar was used to prevent automatic security shutters from coming down.
One of the robbers wielding a machete, threatens a terrified member of staff, while the others smash the glass cabinets and steal the jewellery.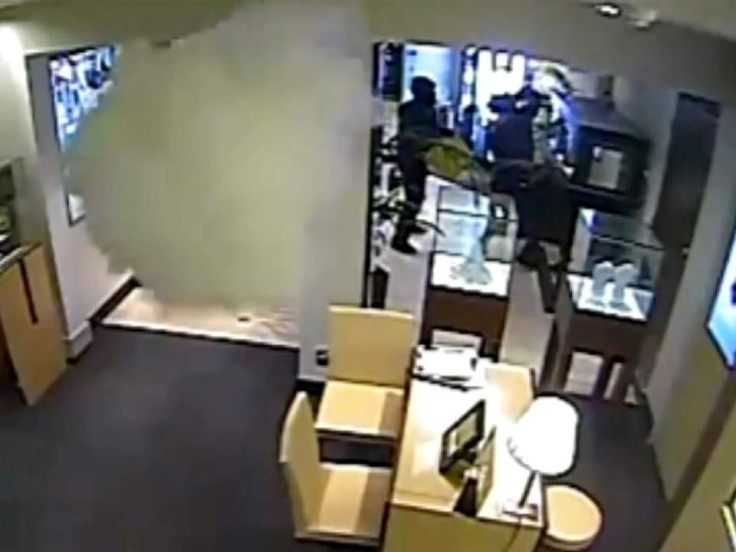 The robber with the machete grabs hold of one of the shop assistants and drags him from room to room while another man, wielding an axe, rushes to the rear of the shop.
The gang are forced to flee when white smoke suddenly engulfs the room as a security device is activated.
Greater Manchester Police said the raiders escaped with 13 watches worth £186,820.
Witness Bob Sharples, who works opposite the jewellers, told Sky News: "There was a bloke hanging out (the door) with a machete, there was a scuffle and a lot of noise. It was full throttle, they knew what they were doing, they were well tooled up....it was well organised."
The four men made their getaway in a black Land Rover which fled the scene at high speed.
The vehicle was later found abandoned on Ashworth Close, in Bowdon, about a mile from the jewellers.
Officers said they believe the offenders transferred to a second getaway car, a white Mercedes, which was parked in Hopkins Field, Bowdon.
Detectives in charge of the inquiry say they want to speak to anyone who witnessed the robbery, which happened on Railway Street, Altrincham, at around 12.20pm on Wednesday 10 June.
Detective Inspector Carl Gilbert said: "We are still hunting for these men, who made off with a substantial amount of jewellery. Detectives are still appealing for anyone who may have witnessed the heist itself, or the offenders in the act of escaping to contact us.
"Also, new information has suggested that these men changed vehicle into a white Mercedes once they had arrived in Bowdon, which offers us another chance to possibly track these men.
"We believe they may have changed car at around 12.45pm on Wednesday 10 June 2015, so we would like to ask anyone who may have been in the area at the time to contact police."