UK military to begin work on high-energy laser weapons for British armed forces
Laser Directed Energy Weapons will be capable of safely neutralising targets over long distances.
The UK military has kick-started work on the development of high-power laser weapons after being awarded a £30m contract to build a prototype system. The UK Dragonfire consortium will build a laser weapon "demonstrator" designed to track targets across long distances at land and sea, and under variety of weather conditions.
The UK's Ministry of Defence (MoD) is exploring the potential of Laser Directed Energy Weapons (LDEWs) as a means of defending British forces against emerging threats from drones and ballistic missiles. If the prototype is deemed successful, service-ready laser weapons will be considered for distribution across the UK military.
UK Dragonfire consists of missile manufacturer MBDA UK, alongside BAE Systems, Qinteq, Arke and aerospace defence and security firm Leonardo-Finmeccanica. The group has been in talks with the MoD to produce a directed energy weapon demonstrator since September but was officially handed the contact this week.
An MoD spokesperson told IBTimes UK that the contract specifically concerned the development of a system that would allow it to assess the potential of LDEWs, rather than the building of a service-ready weapon.
"The tests will provide confidence in the level of effectiveness that can be achieved, identify key limitations and risks and, along with supporting studies, establish the road map to an in-service capability," they said.
In 2014, the US Navy demonstrated its own high-energy laser cannon in tests against drones and boats in the Persian Gulf. Similar defence systems are also being developed in China and South Korea, with the South Korean military planning to use lasers to protect itself against North Korean drones.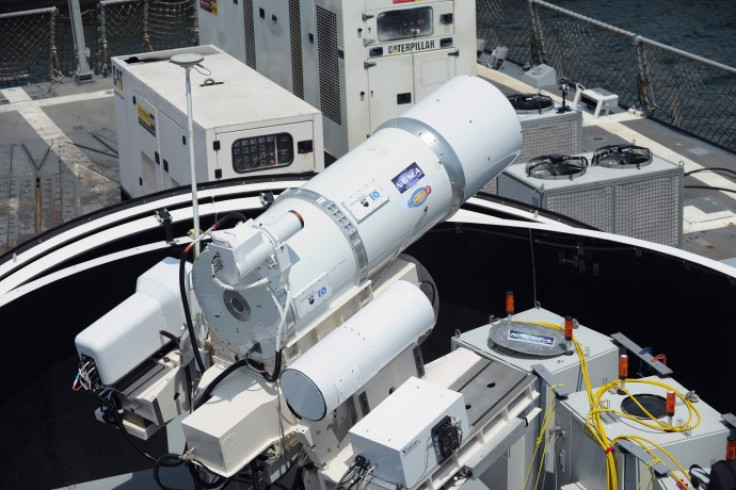 The LDEW project is one of several being supported by the MoD's £800m Innovation Fund, which is aimed at researching and developing experimental defence technologies.
Peter Cooper, of the UK Government's Defence Science and Technology Laboratory (DSTL), said: "This is a significant demonstration programme aimed at maturing our understanding of what is still an immature technology. It draws on innovative research into high power lasers so as to understand the potential of the technology to provide a more effective response to the emerging threats that could be faced by UK armed forces."
© Copyright IBTimes 2023. All rights reserved.