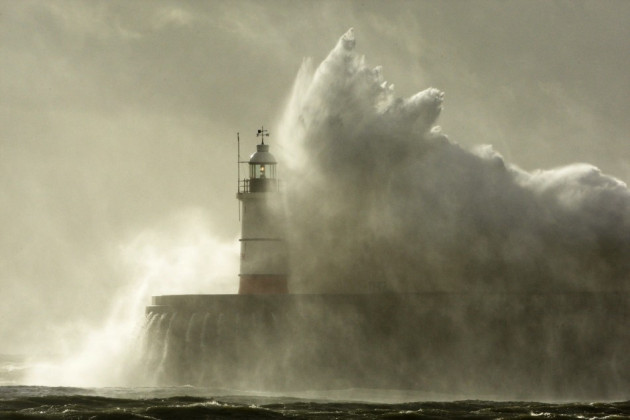 The Met Office has issued an amber alert as winds of up to 90mph and torrential rain are expected to lash Britain.
An amber alert, advising people to "be prepared" for potentially hazardous conditions, warns of gale force gusts that could hit Wales, the west and east Midlands, east and south-west England, London and the south-east.
Travelling from the Gulf of Mexico, the storm is gathering pace as it moves across the Atlantic.
Heavy rain is expected from Sunday night and flood warnings have also been issued, with the MeteoGroup predicting up to 25mm of rainfall in just six hours.
A vast area of low pressure is forming over the Atlantic Ocean and 'Storm St Jude' - named after the patron saint of lost causes - is expected to hit the south-west coast at around midnight before causing havoc across the south.
The winds are expected to leave a trail of destruction across a large area of the UK, bringing down trees and causing structural damage, leading to power cuts and transport chaos on Monday morning.
Frank Saunders, chief forecaster at the Met Office, said: "We are confident that a severe storm will affect Britain on Sunday night and Monday.
"We are now looking at refining the details about which areas will see the strongest winds and the heaviest rain.This is a developing situation and we'd advise people to stay up to date with our forecasts and warnings over the weekend, and be prepared to change their plans if necessary.
"We'll continue to work closely with authorities and emergency services to ensure they are aware of the expected conditions."
Some forecasters believe it could still move to the north, enveloping parts of Yorkshire, or even move further south, missing Britain completely and hitting France instead.
The Met Office described the storm as not one "you would see every year", and said the expected wind strengths would be similar to storms in March 2008, January 2007 and October 2000.
The Environment Agency (EA) has warned of the possibility of surface water flooding on Monday but currently assesses it as a "low risk".
A spokesman added: "EA teams are out working to minimise river flood risk, clearing debris from streams and unblocking culverts. We will continue to closely monitor the situation ready to issue flood warnings if needed. We are supporting local authorities who will respond to any reports of surface water flooding.
"Seafronts, quaysides and jetties should be avoided due to the risk of overtopping by waves and wind-blown shingle."
Watch the video of severe storm warnings