UK tourist facing jail in Dubai for touching man's hip releases heartfelt video to supporters
Jamie Harron's parents have been warned against visiting him as they may also face possible jail time.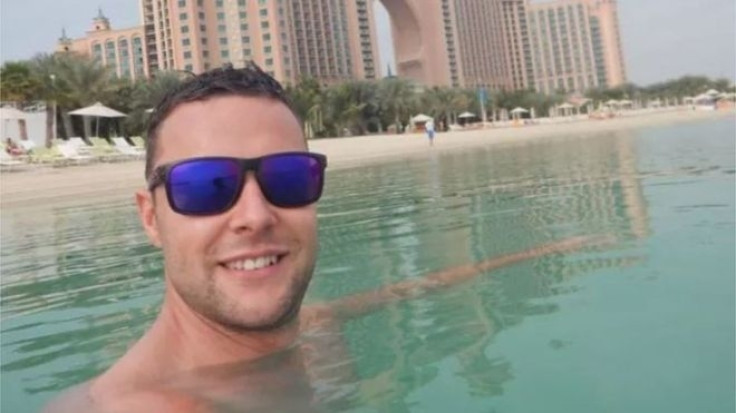 A British tourist who was arrested in Dubai for allegedly touching a man's hip in a crowded bar posted a heartfelt video message for his supporters. The 27-year-old from Scotland faces three years in a United Arab Emirates prison if found guilty.
Jamie Harron thanked his supporters and said he hoped to return home to be with his friends and family.
"I would like to say a heartfelt thank you to all the people around the world who have supported me in this awful time for me and my family," he said to the camera. "Your good wishes mean an awful lot, and they keep me hopeful for the future. All I want is to be back in Scotland with my friends and family, sleeping safe in my own bed.
"Love to you all, and thanks again. I'll hopefully see you soon."
The electrician from Stirling was arrested on suspicion of public indecency for touching a man's hip in a bar. The alleged victim, identified as German businessman Emad Tabaza, has since dropped his complaint, Metro reported.
Harron was sentenced to 30 days in prison for drinking in Dubai. His lawyers are appealing the sentence.
The man's video comes as his parents were warned not to visit him for fears they may also be imprisoned. Radha Stirling, CEO of Detained in Dubai who is representing Harron, said his parents face the possibility of prison for speaking out against the government.
"Jamie's parents want to visit him during this difficult time," she said. "I have advised them that they are at risk of being charged under the UAE's Cybercrime Laws for speaking negatively about the regime and that the coverage of this case should offer them some protection.
"But technically, they could be jailed for this crime."
According to the Mirror, criticising the UAE government, companies or individuals, or related to incidents in the UAE could be considered a crime punishable under UAE law. Individuals have been detained, prosecuted and convicted in some cases.
In an interview from Dubai, Harron told the Mirror that the "whole situation was unbearable" and that he was "shattered". He was on a two day lay over in Dubai on his way to work in Afghanistan as an electrician. Harron has since lost his job and is now in debt.
"Now because of all this mess over a two-day stopover, I am in debt and stand to lose my house, everything I've worked for, and my freedom," he said. "All of the support from everyone back home has just made me feel so homesick. I miss my family so much."
A Foreign and Commonwealth Office spokesman said it is providing consular assistance.