Ukraine Crisis: 14 Killed as Army Helicopter 'Shot Down' Near Slovyansk by Separatists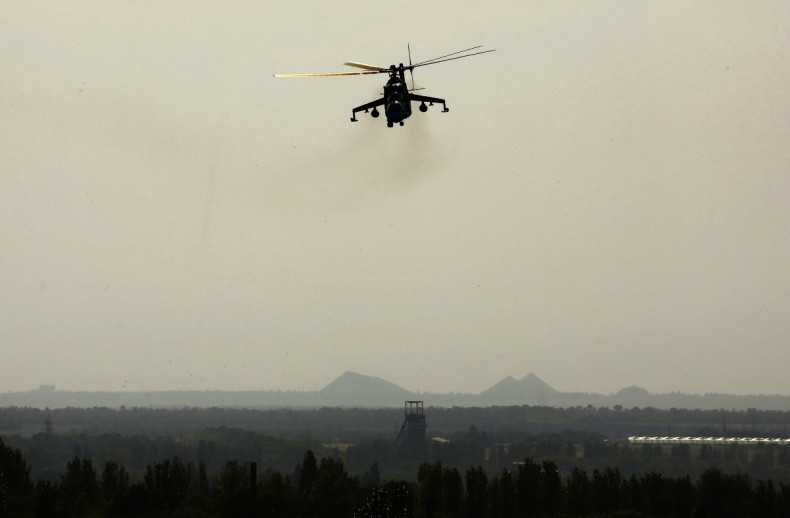 Fourteen people have been killed after pro-Russian separatists shot down a military helicopter near the eastern Ukrainian city of Slovyansk, according to Ukraine's outgoing president.
Oleksandr Turchynov said that a general, Vladimir Kulchtsky, was among those killed in the incident and claimed that the pro-Russian separatists used a Russian anti-aircraft system to shoot down the helicopter.
The combat aircraft was hit after it had offloaded soldiers at a military base between the flashpoint cities of Slovyansk and Kramatorsk.
Slovyansk has been at the heart of the unrest in eastern Ukraine with clashes between pro-government forces and rebels ongoing for weeks.
Ukraine's new President Petro Poroshenko has pledged to tackle the uprising in the east of the country after being voted into power last week.
In the worst fighting between Ukrainian government forces and the rebels seen in the crisis so far, separatists took control of Donetsk airport before it was recaptured in a Kiev assault which killed over 50 of the rebels.
Earlier this month, pro-Russian rebels shot down a helicopter and killed a pilot, as government forces launched an "anti-terror" operation to retake control of the city.
Elsewhere, a separatist leader in Slovyansk has claimed his fighters are holding four international observers who disappeared earlier this week.
Vyacheslav Ponomarev, the self-proclaimed "people's mayor" of the city said the Organisation for Security and Cooperation in Europe (OSCE) monitors were safe and pledged to free them soon.
"I addressed the OSCE mission to warn them that their people should not over the coming week travel in areas under our control. And they decided to show up anyway," Ponomarev said.