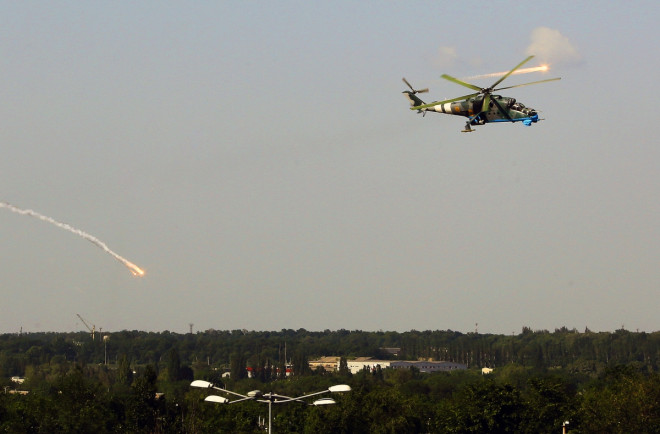 The Organisation for Security and Co-operation in Europe says it has lost contact with one of its monitoring teams in Ukraine, hours after scores were reported dead in fighting between government forces and separatists in the eastern city of Donetsk.
Heavy fighting engulfed the city, home to 1 million people, after rebels attempted to take control of the airport - the second-largest in Ukraine.
Government forces used combat jets and helicopter gunships to repel the attack. The interior ministry said that, after hours of clashes, they were in full control of the airport.
The ministry said its troops suffered no losses while dozens of rebels were killed. However they could not provide an accurate figure.
Insurgents' leaders said that at least 30 of their fighters were brought to a hospital morgue, but warned that the final death toll could reach more than 100.
"As they [Ukrainian forces] are controlling the airport and the fight was there ... we cannot right now identify exactly how many victims we have," Leonid Baranov of the separatist Donetsk People's Republic said.
Amid the turmoil, the OSCE revealed loss of contact with one of its international four-men teams, which was on a routine patrol east of Donetsk.
"We have been unable to re-establish communication until now," the OSCE said. "We are continuing with our efforts and utilizing our contacts on the ground.
The Ukrainian Government as well as regional authorities have been informed of the situation."
In April, seven OSCE observers were abducted by insurgents in eastern Ukraine and held captive for a week before being released.
The battle for Donetsk airport erupted as rebels moved to seize it on Monday, hours after billionaire sweets magnate Petro Poroshenko claimed victory in the presidential elections and announced his first step as leader would be to visit the troubled east.
Government forces launched a large scale counter-offensive, which continued into Tuesday. Donetsk Mayor Oleksandr Lukyanchenko said that at least 40 people were killed during Monday's clashes.