Ukraine Crisis: Fugitive Viktor Yanukovich Plotted to 'Cleanse' Protesters in Kiev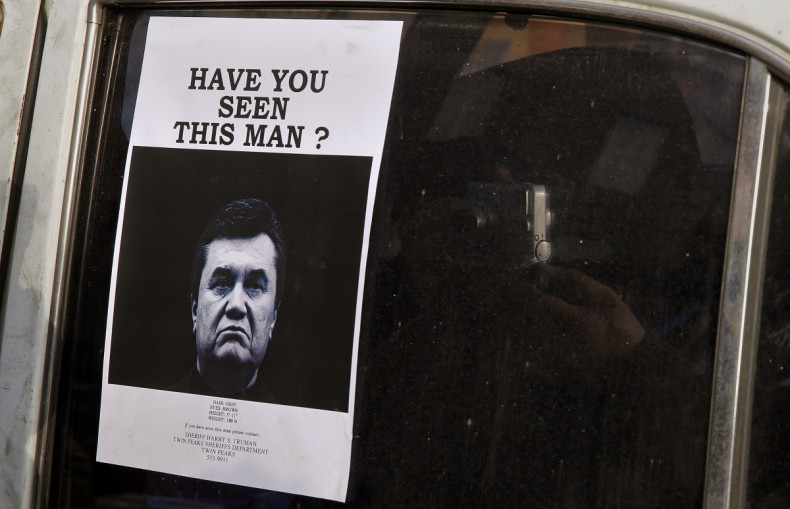 Leaked documents show Ukraine's ousted president Viktor Yanukovych drew up a large-scale "anti-terrorist" operation involving 22,000 security forces to "cleanse" protesters from Kiev, according to Agence France-Presse.
"These documents, detailing the criminal activities of those in charge of the security forces, were passed on to me by patriotic members of the SBU (intelligence and security services) and the interior ministry," claimed legislator and former deputy interior minister Gennady Moskal.
"It's about understanding the nature and magnitude of the crimes committed by the previous government and taking those responsible to court," said Moskal, who is a member of the party of freed opposition leader Yulia Tymoshenko.
According to the documents, the "Operation Wave" aimed at shutting down Kiev, switching off opposition TV channels and leading crowds of demonstrators into a "trap", AFP reported.
The main aim was to clean out the large protests which took place in Kiev's Independence Square, known also as Maidan.
On 18 February, as deadly clashes erupted in the centre of Kiev, Ukraine's security service announced an "anti-terror" operation and warned women and children to abandon the protest.
More than 200 people were injured in the clashes and one protester was beheaded.
Protesters, however, managed to storm police lines, leading the 'anti-terror' operation to fail.
According to Arseniy Yatsenyuk, one of the three most prominent protest leaders, "thousands" of people could have died if the operation had been launched in full.
After three months of violence, the death toll stands at about 88 with 600 injured, according to government officials. The opposition claimed that the death toll was over 100.
The Ukrainian parliament impeached Yanukovich and announced elections for 25 May.
Yanukovich initially said he had no intention of quitting; however, a few hours later he fled Kiev.
An arrest warrant for the ousted president "over the mass murder of peaceful civilians" has been issued by the country's interim government.
Yanukovich, who was last seen in his residence in Balaklava, Crimea, still believes himself "to be the legitimate head of the Ukrainian state elected in a free vote by Ukrainian citizens".
The deposed president failed to recognise the formation of a new government after his removal. "Regrettably, the events that are happening in the Verkhovna Rada [parliament in Kiev] of Ukraine today are illegitimate".
The protests were sparked after former president Viktor Yanukovich snubbed a trade and investment deal with the EU and sought financial help instead through Russia.
Russian president Vladimir Putin agreed to buy billions of dollars worth of Ukrainian government bonds and to reduce the price of gas exports. Russia recently withheld its decision to help Ukraine with $2bn and threatened to engage engage in a war over the Crimea region of Ukraine, to protect the large Russian population and its military assets there.