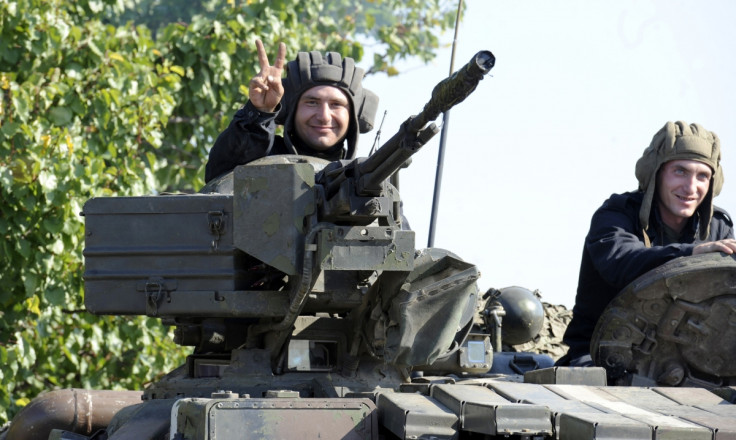 The opposing sides in the Ukraine conflict have pulled back artillery and tanks from the front line. It comes amid the first unbroken 72-hour ceasefire in the region for a year and a half. As part of the agreement signed in Minsk in February, the process is to be completed within 41 days, with weapons up to 100mm (4in) calibre to be pulled back to a distance of 15km (nine miles) from the front line.
Combat has ceased on the frontline for the first time since conflict erupted in April 2014, with a 72-hour ceasefire holding good.
Ukrainian military spokesman Ruslan Tkachuk said the "synchronised withdrawal from the front line" began at 11am local time (8am GMT) in Luhansk region, involving T-64 and T-72 tanks, as well as anti-tank cannon and mortars.
Following a deal between the Ukrainian government and separatists, militants in Luhansk began withdrawing their weapons on 3 October, while those in Donetsk will do so after 18 October.
Michael Bociurkiw of the OSCE monitoring group told the BBC "we recorded movement of heavy weaponry - it will take some time to verify that the weapons are stored". He added: "There are some encouraging developments – it remains to be seen if they are taken to storage areas and put out of harm's way."
There have been numerous violations of February's agreement, with both sides firing on one another with tanks and artillery. The pull-back comes after Ukraine President Petro Poroshenko, Russian President Vladimir Putin, French President Francois Hollande and German Chancellor Angela Merkel met in Paris to hammer out a peace deal in east Ukraine.
Controversial elections by separatists in Donetsk and Luhansk scheduled for the next two months could yet see the peace process unravel.
Hollande said the elections could be held in the new year, after Ukraine passes a law allowing them to go ahead. But Poroshenko said Ukraine must regain full control of its eastern border by the end of the year. As part of the agreement, separatists are to concede control over 200 miles of the eastern Ukrainian border the day after the elections. "The border is a key component of our sovereignty and we are not going to compromise over it," Poroshenko said.
More than 8,000 people have been killed in fighting between pro-Russian militants and Ukrainian government forces since hostilities broke out in April 2014, when pro-Kremlin president Viktor Yanukovich was ousted following popular protests.