Ukraine is exhibiting weapons and military equipment seized from the frontlines of the conflict that it said prove direct Russian involvement in the fighting in eastern Ukraine.
Armoured vehicles, multiple rocket launchers and tanks have assembled in a square in the centre of Kiev. Also on show are remnants of rockets that Ukrainian authorities say bear markings proving their Russian origin.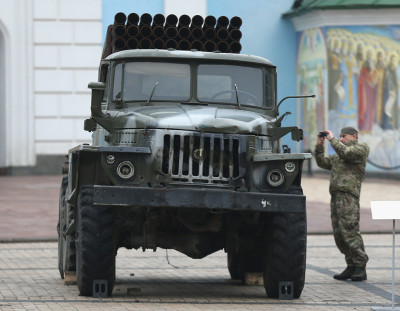 The exhibits include MON-50 antipersonnel mines, which are not produced in Ukraine and are used by the armed forces of the Russian Federation, according to exhibition organisers Ukraine's Presidential Administration.
Russian passports and military IDs found in the region present "undeniable evidence that Russia finances mercenaries" according to a report on gokiev.info.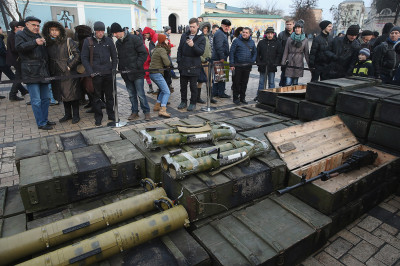 On 18 February, Britain released an infographic featuring photographs of Russian truck-mounted SA-22 surface-to-air missile systems being operated in eastern Ukraine, saying it was further proof of Russia's military involvement in the conflict.
The infographic is headed "How to recognise Russia's Pantsir-S1 (or SA-22) which is not operated by Ukrainian forces."
Nato Secretary-General Jens Stoltenberg said on 18 February that "Russian forces, artillery and air defence units as well as command and control elements are still active in Ukraine."
"I urge Russia to withdraw all its forces from eastern Ukraine, to stop all its support for the separatists and to respect the Minsk agreements. And to also use all its influence on the separatists to make them respect the ceasefire," he said.