Uncharted 4: A Thief's End will be released on 31 July 2015, according to Tesco Direct.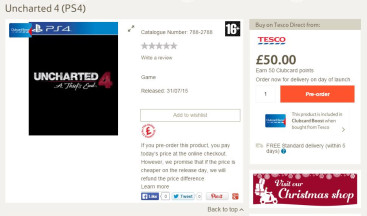 The game's entry on their site lists the release date with no further information on the Naughty Dog-developed sequel.
The general assumption has been that Uncharted would be released in late 2015 as per the previous three titles released in October, November and December.
However, last year Naughty Dog enjoyed huge success when they released The Last of Us in July, so it's entirely possible they are trying to emulate that success by releasing during the typically barren summer months.
When a release date leaks in this manner it is wrong more often than it is right, so take the news with a hefty pinch of salt.
Gameplay from the title was shown off this past weekend at the PlayStation Experience event in Las Vegas.
The footage revealed a more open game than players have been accustomed to in the series to date, but still enjoyed the same blockbuster thrills and gorgeous visuals that have become a staple of the swashbuckling franchise.
Popular video game voice artist Nolan North will once again play Indiana Jones-like explorer Nathan Drake, with the current king of video game actors Troy Baker making his debut as Drake's brother.
As the title suggests, Uncharted 4: A Thief's End may be the final entry in the series, whenever it is finally released on PlayStation 4.