University of Birmingham to Build Net Zero Carbon Smart Building and Expand Energy Research
The forthcoming smart building, set to grace the Edgbaston campus, will house advanced research laboratories and the facilities will become the epicentre of the University's Birmingham Energy Institute (BEI).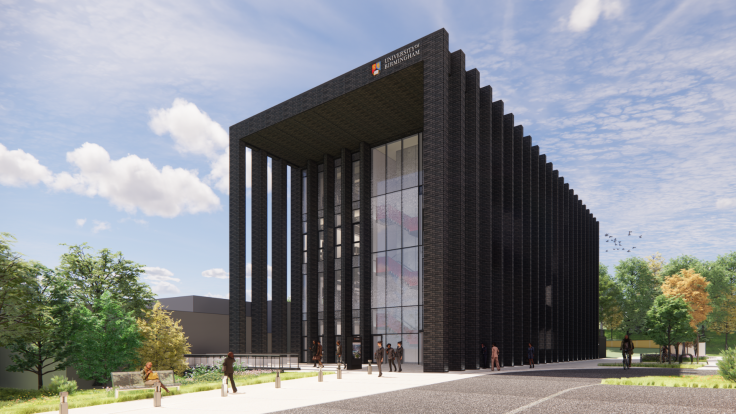 The University of Birmingham has taken a significant step towards becoming a leader in sustainable energy research and education with its latest announcement.
Furthermore, the university revealed plans to construct a cutting-edge net-zero carbon smart building on its Edgbaston campus, set to be the centrepiece of its vision for a "living laboratory". This initiative aims to transform the campus into a national testbed for innovation in low-carbon energy systems.
The forthcoming facility will be home to the prestigious Birmingham Energy Institute (BEI), consolidating interdisciplinary energy research and educational efforts from across the university and its partner institutions.
Additionally, this ambitious project will also serve as a hub for industrial collaborations, leveraging digital sensor and analytics technologies across the university's campuses in Birmingham and Dubai to experiment with novel low-carbon approaches to energy generation and consumption.
At the heart of the university's transformational vision is the creation of a "living laboratory" ecosystem at the city scale, with the new smart building serving as its nucleus. This endeavour marks a groundbreaking effort to accelerate the transition towards a net-zero carbon society.
Professor Martin Freer, Director of the BEI, expressed his enthusiasm for the project, saying: "This is a truly ambitious step towards a net-zero carbon society. We are working with local, regional, national and international partners to unlock the deployment of solutions that will accelerate the energy transition.
This new investment will put us in a position to bring transformational change to the sector. We are excited to be working with both existing and new partners to develop and test new innovations, both technical and non-technical, on a scale that is not currently available anywhere else in the UK."
Over the past decade, the University of Birmingham has seen rapid growth in energy research, with its researchers at the forefront of developments in various energy-related fields, including energy systems and storage, heating and cooling, materials irradiation, hydrogen fuel and future vehicle technologies.
Furthermore, the university has played a pivotal role in energy policy and investment discussions.
The expansion of fusion and fission energy research on campus is particularly noteworthy, with the recent inauguration of a nationally unique high-flux neutron facility. This facility is designed to support the development of materials and sensors required for next-generation nuclear energy facilities, aligning with the university's commitment to addressing global sustainability challenges as COP28 approaches later this year.
Professor Toby Peters, a key figure in the "clean cold" technology research, has extended the university's reach by leading investigations into sustainable cooling at the Africa Centre of Excellence for Sustainable Cooling and Cold-chain, located in Rwanda.
The Birmingham Energy Institute has collaborated closely with industry partners, key public sector stakeholders and investors to facilitate this expansion and establish Tyseley Energy Park, a forward-looking energy park in East Birmingham. This park, initiated by the 300-year-old Birmingham manufacturing firm Webster and Horsfall, provides numerous opportunities for translating emerging technologies to a pre-commercial scale.
The university's participation in the Innovate UK-funded Energy Research Accelerator, along with collaborations with universities in the Midlands Innovation Group, the UK government and industry partners, exemplifies its commitment to shaping the United Kingdom's future energy landscape. This multi-faceted approach is poised to drive innovation and research in the energy sector while fostering collaboration and sustainability.
Andy Street, Mayor of the West Midlands, emphasised the regional significance of these developments, stating: "Our region is helping to lead the way when it comes to tackling the climate emergency, and that's why we've made our #WM2041 net-zero commitment. This investment and facility very much support our regional agenda – developing our research and technology capabilities, enhancing our preparedness for the Green Industrial Revolution and demonstrating public/private cooperation at its very best."
Councillor John Cotton, Leader of Birmingham City Council, echoed these sentiments, highlighting the potential of this investment to address the challenge of decarbonising heating and providing clean energy.
He stated: "It is clear that we cannot meet our climate goals without changing the way that our domestic and industrial buildings are heated and powered, and this investment will help to unlock pioneering new technologies."
Construction on the groundbreaking smart building is scheduled to commence in 2024. As the University of Birmingham takes bold strides towards sustainable energy solutions, the world watches with anticipation, eager to witness the transformation of the campus into a dynamic hub of innovation and progress in the realm of net-zero carbon energy systems.
© Copyright IBTimes 2023. All rights reserved.