When Gina Martin caught a man taking a picture up her skirt at a summer music festival, she was sure the police would arrest him.
But despite managing to snatch his phone and show officers the image, she was told that nothing could be done.
Martin, a 26-year-old writer from London, has since launched a campaign to make so-called "upskirting" illegal under the Sexual Offences Act 2003. The campaign is now backed by nearly 80,000 people.
Currently, culprits are prosecuted using a common law offence known as outraging public decency, which is typically used to combat flashing.
But IBTimes UK has found upskirt perverts arrested under this law are simply walking away with fines as low as £20.
It comes as figures also show the police have had to tackle a significant spike in reports of upskirting on Britain's rail network in recent years – as offenders target crowded carriages with smartphones and ever-cheaper spy cameras hidden in places like shoes.
And fuelling this disturbing trend are some of the world's most visited, and most profitable, porn websites.
They are hosting a vast stash of hidden camera footage showing upskirt and "downblouse" shots of women of all ages, IBTimes UK can reveal.
This includes victims having cameras covertly pointed up their dresses while travelling on the train, doing grocery shopping in supermarkets and relaxing in the park.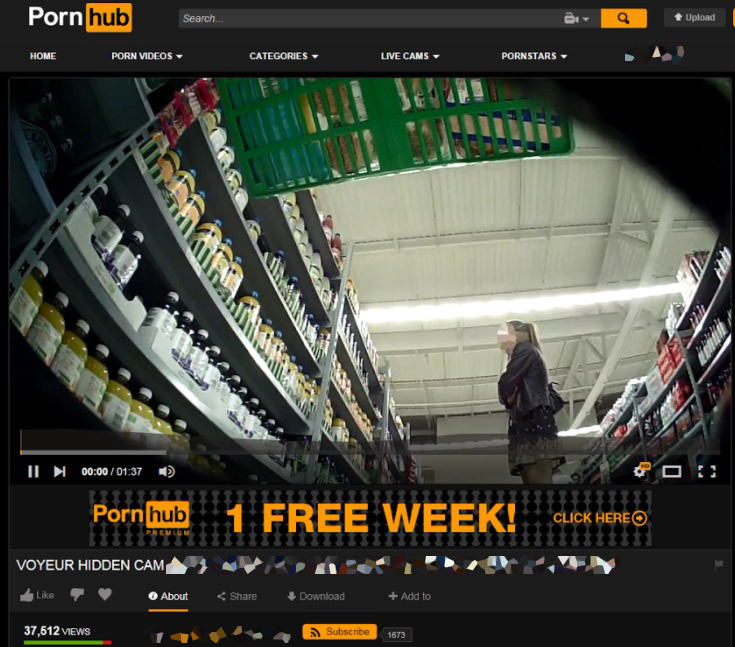 Their ubiquity and popularity online – some clips have been viewed millions of times – raises the question of just how many women don't realise they appear on mainstream porn sites.
It has led one Police and Crime Commissioner speaking with IBTimes UK to liken the rampant sharing of these videos to "gang rape".
So far, two of the UK's leading porn sites have started taking down videos after being confronted with examples.
But astonishingly, they said it was up to victims or users to flag other videos if they wanted them also removed.
"The fact that this is such a big online industry shows how normalised lack of consent has become," Martin says.
She adds: "Making upskirting a Sexual Offence in the UK & Wales is the only effective way of capturing everyone who commits this act, regardless of where they are, how they do it and who sees them.
"We have to decide what kind of society we want to be and deter this behaviour, because the law is failing the women of UK and Wales. As the law stands, upskirting is an offence against public morals, not the individual."
The fact that this is such a big online industry shows how normalised lack of consent has become
The publicity surrounding Martin's own upskirting experience in July of last year – which she says left her feeling "humiliated" and later "victim blamed" – has already prompted the government to consider a change in the law.
In light of IBTimes UK's findings, they have also been urged to go one further by targeting not only those who carry out upskirting, but also those who publish or host clips online.
Three of the UK's most popular porn sites – Pornhub, XVideos and Xhamster – have been found hosting countless upskirt videos.
Some users are even allowed to have their own upskirt channels.
One Pornhub channel with dozens of videos boasts of "100% real" upskirt videos in "extreme situations".
"I like my hunting, I'm into it passionately, and I'll show you THEIR secrets, kept down there between their beautiful long legs," its disturbing description reads.
A tiny sample of the upskirt videos found on Xhamster and XVideos include: long-lens footage up women's skirts as they chat with friends in a park; a student putting a camera up a teacher's dress while in class; a woman filmed between her legs as she tries on shoes in a department store; and an airplane passenger pointing his phone up an air hostess's uniform.
That's on top of clip after clip of women in train carriages.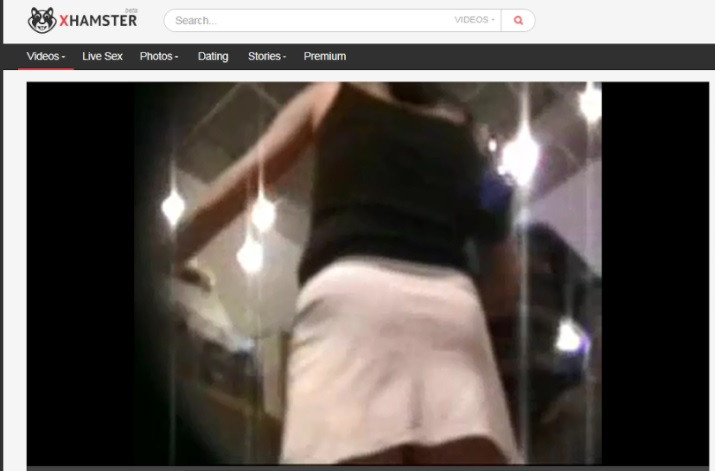 Dame Vera Baird, Northumbria Police and Crime Commissioner, said the clips show the law needs to change.
"I think you have to regard both the person who films it as a criminal [and] the person who passes it on, who has added to their criminality by that deliberate act and by not merely keeping it for their own gratification but ensuring it goes wider.
"It's a little bit like gang rape."
She adds the law at the moment is "totally inadequate" to deal with upskirting, saying the lack of specific offence means even officers can be left confused over whether it's illegal or not.
"For everyday purposes it's absolutely imperative that there's a straightforward offence for this because clearly it is a sexual violation, clearly it is using women's bodies as public property for sexual gratification and as such not that far away from actually touching somebody inappropriately," she says.
"It's very intrusive. And a real concern since this [campaign] has started to happen and become public is women asking 'has it happened to me? What can I do? Should I be wearing different clothes? Ought I not go to these places?'
"That's not how the world should work for women."
While taking photos or videos up women's skirts in a public place can be prosecuted under "outraging public decency", the law surrounding the possession, sharing and publishing of these images is more complex.
Myles Jackman, a UK lawyer who specialises in pornography cases, says upskirting is a clear "violation of consent", but adds that possession is not currently considered illegal under extreme pornography laws.
"The only offence it could be charged under currently would be revenge porn, and then it would have to fit in to what we call the mischief of revenge porn," he explains.
Jackman says this means proving that the person who uploaded the image had a prior relationship or interaction with the victim, and that the sharing of the image intended to cause extreme alarm or distress.
He adds that tackling porn sites posed particular difficulties given their international dynamic.
XVideos did not respond to a request from IBTimes UK for a comment on the upskirting voyeur videos it continues to host on its site.
While Pornhub and Xhamster both took down those clips pointed out to them, numerous similar videos remain available to users.
Both sites – which last year featured among the BBC and Instagram as the UK's top 20 most visited websites – said they abided by the law and made efforts to remove content of this kind.
But they said they also relied on waiting for users to flag videos as "inappropriate" before making a decision on whether to remove them.
Corey Price, Vice President of Pornhub, said his site had introduced "a submission form for the easy removal of non-consensual content".
An Xhamster spokesperson said it takes "reasonable efforts to stop abusive content from being made available on its website" and users are prohibited from uploading content that invades another's privacy.
Dame Vera describes it as a "poor defence".
"The offence should be putting stuff on a website with this purpose and without the consent of the person who's depicted, so it isn't an obligation on the victim to find out [and report it]," she says.
"What are they to do? Trawl tons of websites to see if it's them? Clearly not."
Martin adds: "Taking the videos down when asked does not negate the exploitation of these women. We need to tackle the cause not the symptom."
While the law surrounding upskirting currently remains a grey area, statistics show a rise in the number of these crimes being reported and investigated in recent years.
Figures obtained by IBTimes UK from British Transport Police show it recorded 31 upskirting crimes in 2014. This rose to 44 in 2014, before nearly doubling to 71 in 2016.
Detective Chief Inspector Darren Malpas, of BTP, said the rise in reports coincided with the force's "Report it to stop it" campaign, which heightened awareness of sexual harassment and abuse of passengers.
"Though it is clearly a concern that so many people are affected by this type of crime, it is pleasing that previously reluctant victims of sexual offences now have the confidence to report this to us," he said.
"Tackling all forms of unwanted sexual behaviour on public transport is a priority for British Transport Police and we have worked hard in recent years to send a clear message to victims that they will be taken seriously and we will investigate offences."
He acknowledged that unwanted sexual behaviour like upskirting "largely goes unreported".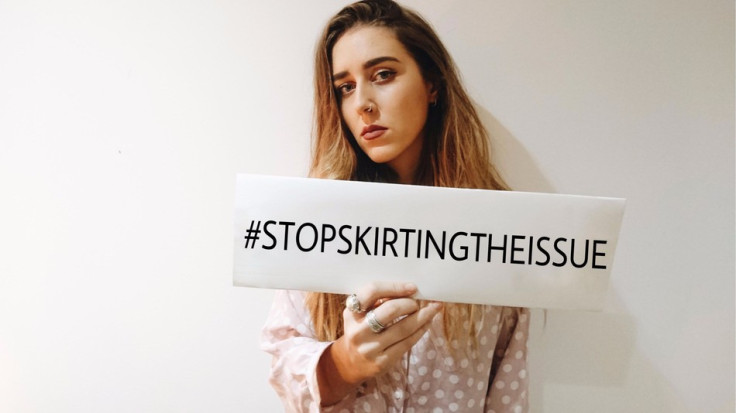 Martin said since her campaign went viral on social media she has received a flood of messages from other girls and women who spoke of their own experiences of being upskirt victims.
This included a 13-year-old girl who was targeted while at school, before the image was then shared around.
"She messaged me saying she felt sick and she can't go to school anymore," Martin says. "Everyone in school has seen it, all the teachers have seen it – and it was put on Instagram."
While campaigners welcome increased reporting of offences, they complain the current state of the law means those who are caught are simply walking free from court with little more than a fine.
One case last year saw Ronald Hollis, 67, from Essex, appear before a magistrate after being caught taking photographs up a woman's skirt while at West Ham train station in East London.
He pleaded guilty to one count of outraging public decency at Highbury Magistrates' Court and was handed a conditional discharge. He was told his only punishment would be a £20 victim surcharge and court costs.
In a sign offenders can come from all walks of life, last year also saw PhD-qualified London researcher Dr Richard Anthony George caught by BTP taking pictures up women's skirts and down their blouses in London Underground trains on the Central, Metropolitan, District and Circle Lines.
The 49-year-old, also from Essex, walked away with a 12-month community order. He was also ordered to carry out 150 hours of unpaid work and made subject of a sexual harm prevention order for five years.
He was spared any prison sentence after his defence told the court he had already been "humiliated" by being caught and that he now "takes a book whenever he travels" so he isn't tempted to reoffend.
In September 2017, Justice Secretary David Lidington told MPs the government is considering making upskirting a crime under the Sexual Offences Act 2003.
He told the Commons: "I have taken very seriously the representations made by Gina Martin and from some of the police and crime commissioners.
"I have asked for detailed advice on this. Before proceeding to a commitment to new legislation, I want to be absolutely certain that this would be the right course to take."
Martin says a change in the law will mean future offenders will, at the very least, be on the sex offenders register.
"There's no difference in my mind whether you're bending down, looking up their skirt and touched them, or you took a picture," she says.
"It took 48 hours for the Government to respond to harassment in Parliament, so I'm hopeful that they'll make a decision in principle on upskirting soon."