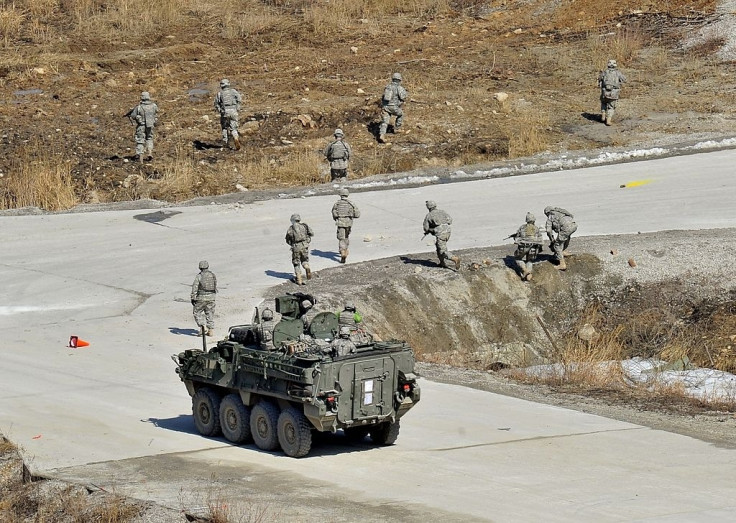 In a bid to deter Russia's growing firepower in parts of Europe, the US Army's 2nd Cavalry Regiment, also known as '2nd Dragoons', has tested advanced versions of its Stryker Infantry Carrier Vehicles (ICVs).
Staff Sgt. Randall Engler and 14 other 2nd Cavalry troops travelled from Germany for a six-week training and testing programme at the Aberdeen Proving Ground in Maryland.
The programme included exploring the capabilities of an upgraded fleet of Stryker vehicles equipped with powerful 30mm cannons and the CROWS-J common weapon system – a remote-operated work station that allows troops inside the vehicle to fire Javelin anti-tank guided missiles.
"It's empowering," said an excited Engler after testing the new Stryker, which is also being called 'Dragoon', named after the unit.
"You're laying that hate [on a target] with a bigger round. It's doing a lot more damage and you're getting better effects," he continued.
Along with Engler, other troops also spoke highly of the new vehicle, which marks a major upgrade over the current fleet of Strykers bearing either a grenade launcher or an M2 .50-calibre machine gun.
The US Army now hopes to field the improved ICV-Ds (Infantry Carrier Vehicle - Dragoon) on forward posts in Poland and is likely to deploy them next summer with the first squadron of 2nd Cavalry.
Before any of that, though, it will dispatch six variants of both vehicles to Germany for feedback from more troops of the unit.
The regiment requested this upgrade to deter Russia's "aggressive military operations" and other "near-peer threats in Europe".
Noting the limited number of American troops stationed in Europe, Lt. Col. Troy Meissel, the deputy commanding officer of 2nd Cavalry said, "This capability coming to us is directly attributable to Russian aggression and we are actively working with our foreign partners in how to help shape our formation."
Meissel reiterated the new armaments mounted on these Strykers won't turn them into combat vehicles but will increase the efficiency of the infantry squad in battle. "It allows us to get to the right place at the right time to close in and destroy the enemy".
Russia's advancements in armoured warfare continue to be a major cause of concern, particularly for the US and Europe.
In the run-up to the joint Russia-Belarus military exercise, Moscow's advancing capabilities – including its Armata tank equipped with active-protection system – have prompted NATO member states in Eastern Europe to flag the possibility of Russian espionage efforts and called on the US for military support.
The Russian military drills are likely to involve up to 100,000 troops and include nuclear weapons training.