US bombers were already flying over Korean peninsula when Kim Jong-un issued Guam threat
The nuclear-capable bombers took off from an airbase in the Pacific island of Guam, which North Korea threatened to strike.
Two US supersonic bombers flanked by Japanese and South Korean jets reportedly conducted air drills for 10 hours off the Korean peninsula on Tuesday (8 August), in an apparent show of force against North Korea.
The exercise involved the B1-B Lancer bombers along with two Japanese F-2 jet fighters near the southern Kyushu island, Japan's Air Self Defence Force (ASDF) said in a statement.
The US bombers also conducted a separate exercise with South Korea later during the day as part of a regular combined exercise, a South Korean military official said on Wednesday (9 August).
The nuclear-capable bombers took off from Andersen Air Force Base in the Pacific island of Guam, which North Korea on Wednesday threatened to strike if the US continues its tough stance over Pyongyang's repeated ballistic missile tests.
The US has in the past used overflights of the supersonic B1-B bombers every time North Korea launched a missile or nuclear test.
The Strategic Force of the Korean People's Army (KPA), which controls North Korea's nuclear and conventional strategic missiles, said such flyovers by the bombers and jets "get on the nerves" of the Kim Jong-un regime, the official KCNA reported.
As soon as Kim makes a decision, the strike plan against Guam will be "put into practice in a multi-current and consecutive way any moment", a spokesman for the KPA said. He added that "enveloping fire" would contain major US military bases on the island territory.
However, Guam Governor Eddie Calvo brushed aside North Korea's threat saying that defences are in place strategically to protect people. He said the island was prepared for "any eventuality".
"Guam is American soil ... We are not just a military installation," Reuters cited him as saying.
The threat to attack Guam, which has a population of around 160,000, comes close on the heels of US President Donald Trump's comments that the Pentagon would meet any threat from Pyongyang with "fire and fury".
Confronting the Kim regime's sabre-rattling has been a key aspect of US foreign policy under Trump.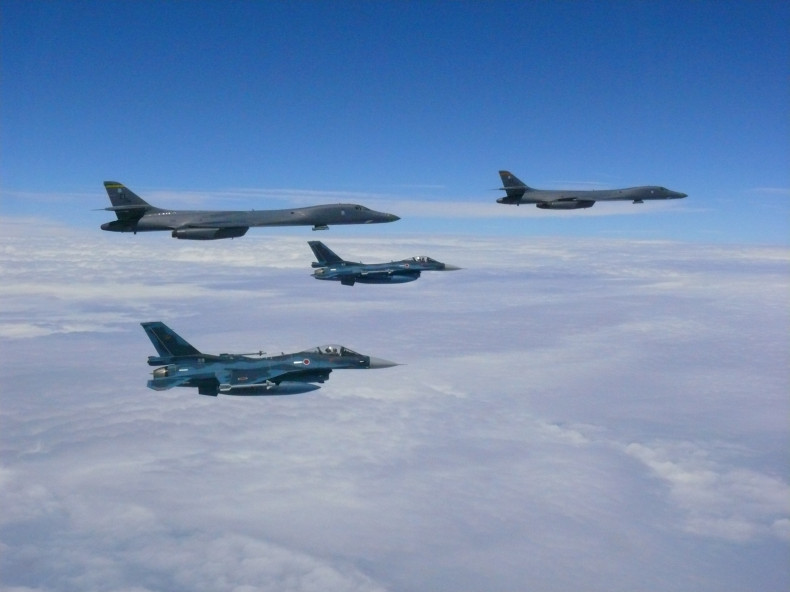 "North Korea best not make any more threats to the United States. They will be met with fire and fury like the world has never seen," Trump said.
His remarks came after the Washington Post reported on Tuesday (8 August) that the rogue nation was closer than ever to becoming a fully-armed nuclear state and that it could fit nuclear warheads inside one of its missiles.
The Post also reported that the Kim regime could develop a nuclear-powered intercontinental ballistic missile (ICBM) by 2018, two years earlier than it had been feared.