US destroyers patrol South China Sea near islands claimed by China
Spruance, Momsen and Stethem patrol amid rising tensions.
Three US Navy destroyers have been silently sailing near the islands claimed by China at a time of heightened tensions in the South China Sea. The destroyers — Spruance, Momsen and Stethem — have reportedly been patrolling the disputed waters over the past two weeks.
An unnamed US defence official, on the condition of anonymity, told the Washington-based Navy Times that the patrols have been regularly conducted within 14 to 20 nautical miles at the Spratly Islands and Scarborough Shoal. The fleet entering the areas claimed by China is seen as an apparent show of force, a week ahead of the international court's ruling on sovereignty claims by China.
The US is patrolling within 12 miles of Chinese-claimed features as it would give its Navy the right to freely operate in the waters that are also claimed by Taiwan, Vietnam, the Philippines, Brunei and Malaysia. China would not regard any patrols outside this limit as an intrusion because it minimises the risk of confrontation.
Lieutenant Clint Ramsden, a spokesman for the US Pacific Fleet, said they have been patrolling as it has been "part of our regular and routine presence throughout the western Pacific. US Navy forces have flown, sailed and operated in this region for decades and will continue to do so".
Although he declined to give details about future patrolling or its locations due to "operational security", Ramsden clarified that the patrols are conducted in "accordance with international law".
China has always been wary of the US patrolling the sea. A similar exercise conducted by the US in October last year evoked a severe rebuke from China. In response, Beijing launched what it calls as a "routine" military drill on 5 July.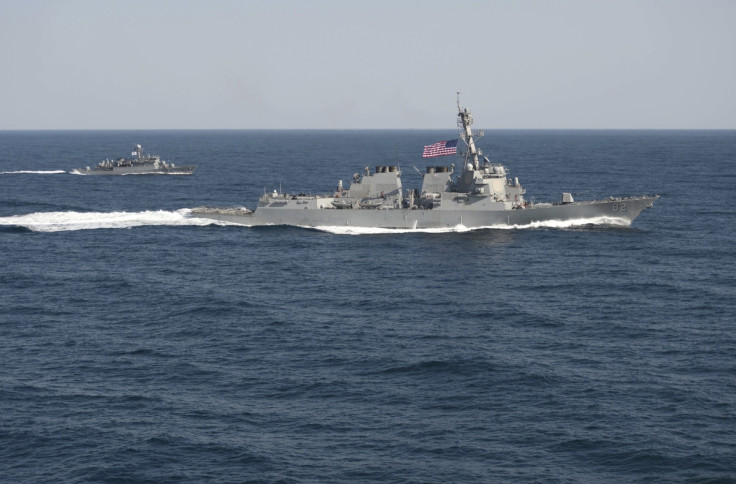 China has frequently accused Washington of stirring trouble, and of militarising the waterway with freedom of navigation patrols. In return, America has been anxious about China expanding its military facilities on the island, which is one of the world's large trade routes.
China also recently warned the US that it should not do anything that would harm China's "sovereignty and security interests". Foreign Minister Wang Yi spoke to US Secretary of State John Kerry and said America should not take sides and stick to its promises, Reuters reported.
Wang insisted once again that China would ignore The Hague court's ruling expected on 12 July. Regardless of the ruling, he said Beijing will "resolutely safeguard its own territorial sovereignty and legitimate maritime rights and firmly safeguard peace and stability in the South China Sea".
The US State Department confirmed the telephone conversation both the foreign ministers had, which was initiated by Kerry.
© Copyright IBTimes 2023. All rights reserved.