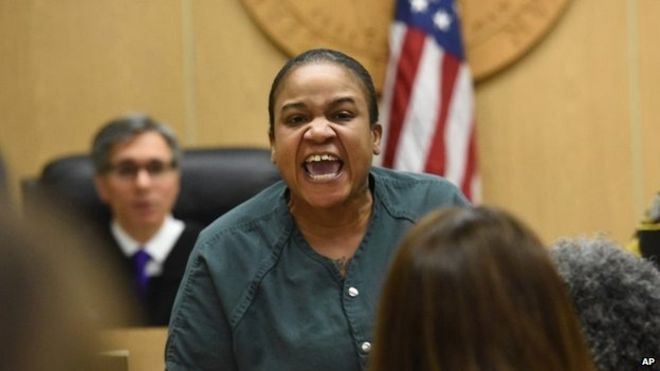 A Detroit woman who killed two of her children and hid their bodies in a freezer, has been sentenced to life in prison.
Mitchelle Blair, 36, was arrested in March, when officials carrying out an eviction order at her home, discovered the bodies of her son, 9 year-old Stephen Blair, and her daughter, 13-year-old Stoni Blair, inside her freezer. Their bodies had been hidden there for more than a year.
She was charged with murder, torture and child abuse after what Detroit police chief James Craig called a "terrible find".
Prior to her arrest Blair portrayed herself as a doting mother on social media. She wrote on Facebook: "There is no greater blessing than being called Mom."
Passing sentence, Wayne County Circuit Judge Dana Hathaway said, in fact, she had created a "house of horrors" Sky News reports.
"I do pray that your remaining children will recover from what they saw and endured in that household," the judge said. "They lived in terrible fear of you. And I find that just so sad in this case. After all is said and done, you imposed the death penalty on your own children."
"I did," replied Blair.
Mitchelle Blair then lashed out at the victims' absent fathers, but the judge threatened to have her removed from the court for interrupting.
Blair confessed to killing her two children, alleging that they had sexually abused one of their siblings, though she did not witness the alleged molestation and didn't report it to police.
Two of the woman's other children, aged 11 and 17, have been placed in protective custody.
In a chilling written testimony, her eldest daughter told authorities that her mother killed her two siblings and forced her to put one of the bodies in the freezer of their Detroit, Michigan, home.
The extent of the horrifying abuse she subjected her children to over several years was exposed, as the teenager told investigators she and her surviving brother were also regularly beaten with an extension cord and plank. She brutally beat the children and burned them with irons.
Blair admitted kicking Stephen, punching him, making him drink Windex and scalding him with hot water in his genital area.
She lifted him with a belt around his neck and put a bag over his head until he lost consciousness.
After Stephen's death in August 2012, Blair wrapped his body in a bed sheet and put him in the freezer.
Nine months later, it was revealed that Blair became "enraged" when Stoni said she didn't like her surviving siblings. Blair strangled the girl with a T-shirt and suffocated her with a black rubbish bag at the Martin Luther King Apartments.
She then ordered her 17-year-old daughter to put her sister's body in the deep freezer next to her brother.
A medical expert testified that the two children had been beaten and burned before they died.
Blair pleaded guilty in June to two counts of felony murder, two counts of premeditated murder and one count of torture.
As she made her plea she said: "I don't feel no remorse for the death of them demons."
Authorities investigated allegations of abuse in 2002 and 2005, but Blair was allowed to keep custody of the children.
Blair will serve life in prison without parole.