Soon after US President Donald Trump reluctantly signed a bill imposing a new set of sanctions against Russia on Wednesday (2 August), Russian Prime Minister Dmitry Medvedev said the act shows the Trump administration's "total weakness".
Medvedev also warned that the US establishment was preparing to remove President Donald Trump from power, who is like "a non-systemic player" in the political setup.
"The US establishment fully outwitted Trump...The issue of new sanctions came about, primarily, as another way to knock Trump down a peg," the prime minister wrote in a long Facebook post. "New steps are to come, and they will ultimately aim to remove him from power. A non-systemic player has to be removed."
Talking about the impact of the new sanctions in US-Russia relations, Medvedev said the move "ends hopes for improving our relations with the new US administration".
He also said that "it is a declaration of a full-fledged economic war on Russia" and that the "Trump administration has shown its total weakness by handing over executive power to Congress in the most humiliating way".
He accused the US Congress, which overwhelmingly passed the sanctions bill, of ignoring the interests of the US business community and for choosing "politics over a pragmatic approach".
"Anti-Russian hysteria has become a key part of both US foreign policy (which has occurred many times) and domestic policy (which is a novelty)," he noted.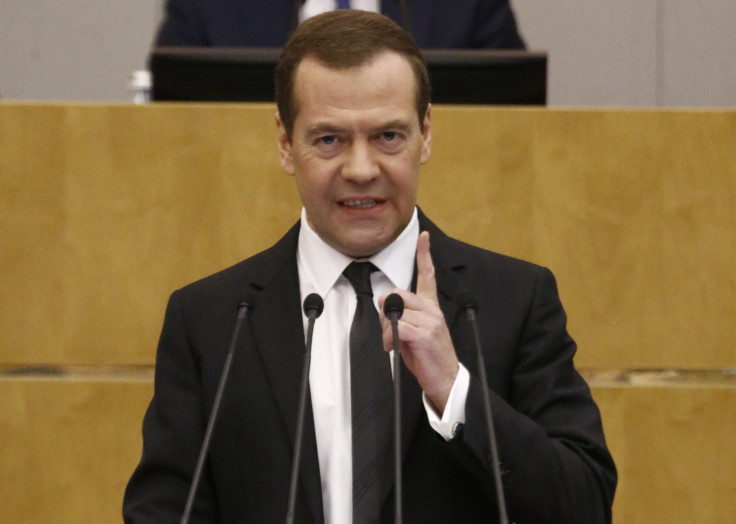 The Congress had reportedly passed the legislation, which also imposes fresh sanctions against Iran and North Korea, despite objections from the White House. The sanctions against Kremlin were triggered by the country's annexation of Crimea in 2014. However, the latest sanctions were also partly driven by allegations that Russia meddled with the 2016 US presidential elections and helped Trump win.
Both Trump and his Russian counterpart Vladimir Putin have denied the allegations of collusion. The two recently met on the sidelines of the G20 summit in July in Hamburg, Germany and vowed to improve ties between the two nations, who have had strained relations for years.
However, Putin ordered the expulsion of nearly 755 people from the US embassy and consulates in Russia as a retaliation against the US Congress passing the sanctions bill.
"Relations between Russia and the US are going to be extremely tense regardless of Congress' makeup and regardless of who is president," Medvedev said in his post, referring to further deterioration of US-Russia relations.
He added that despite these economic sanctions, the country "will steadily continue our work on developing the economy and social sector, take efforts to substitute imports, and solve major national tasks, relying mostly on ourselves. We have learned to do so in the past few years".