A couple, their son and a housekeeper have been found murdered in their home in one of Washington DC's most exclusive neighbourhoods.
Savvas Savopoulos, 46, his wife Amy Savopoulos, 47, the couple's 10-year-old son, Philip, and a housekeeper, identified as 57-year-old Veralicia Figueroa, died as a result of stab wounds or blunt force injuries.
Firefighters were called to a blaze at the home at 3pm to find smoke and fire billowing into the sky. After breaking into the home through the roof and windows, homicide detectives and secret service agents were called to the scene and taped off the street.
The bodies of the four victims were found in the multimillion-dollar family home. According to reports, at least one of the four people found dead in the house smelled of gasoline prompting speculation that they may have been victims of an arson attack.
A Porsche 911 belonging to the family was found on Thursday night in Hyattsville, Maryland. The car had been set ablaze in a church car park.
Police confirmed that an employee of the family received a text message from Amy Savopoulos' phone at 9am on Thursday that read: "Stay home, we're not feeling well."
The employee tried to call Mrs Savopoulos about an hour later, but received no answer.
Investigators say there was no evidence to suggest forced entry into the Savopouloses' home, but have not released any information about who might have killed them or why.
The family had lived in the exclusive neighbourhood for more than a decade, near the residence of US Vice President Joe Biden on Embassy Row.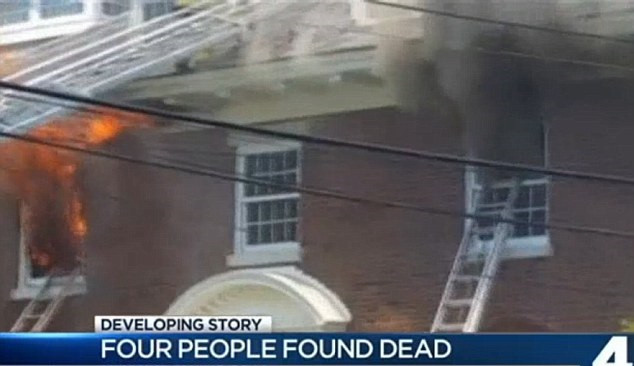 Mr Savopoulos was the president and chief executive of American Iron Works, a construction firm.
The murders have shocked residents in the exclusive neighbourhood, where the family had lived for more than a decade. Coco Palomeque, a friend and neighbour, told the Washington Post the Savopouloses were "a beautiful family". "The community where they lived really loved them," she said.
The family are survived by two teenage daughters, who were at their boarding schools when the attack occurred.
180 people gathered to mourn them on 15 May at Washington National Cathedral.
The family home is now the scene of an arson investigation as detectives brand the incident 'very suspicious'.
Police have issued a public appeal for any witnesses who saw a blue 2008 Porsche 911, license plate DK2418, leave the scene on Thursday at 10.30am.