US defence chief James Mattis said on Monday (5 June) that his country will not be deterred by terrorist attacks against the West and pledged to continue the fight against Islamist extremists.
His comments come after the 3 June attacks in which three extremists ploughed a van into pedestrians on the London Bridge. They then drove the vehicle to the nearby Borough Market where they stabbed people in bars and restaurants. The attacks claimed the lives of seven people, including a Canadian and a French national, besides injuring at least 48. All the three attackers were shot dead by police. The attacks were claimed by Islamic State (Isis) militants.
Speaking in Australia along with US Secretary of State Rex Tillerson, Mattis said: "We are united, as I said, in our resolve, even against an enemy that thinks by hurting us they can scare us.
"Well, we don't scare."
Mattis and Tillerson are in Sydney - their first joint trip outside the US – where they are expected to hold a press conference with their Australian counterparts later on Monday.
The meetings of the American and Australian leaders are expected to touch on a range of issues, including defeating the Isis, dealing with North Korea's increasing nuclear threats and stabilising Afghanistan.
Mattis also pledged unity with Australia to fight terrorists seeking to subdue the West.
Reacting to the London attacks, Australian Prime Minister Malcolm Turnbull said the global community must be "vigilant and determined and defiant" as he warned the world would likely see more such attacks, Reuters reported.
"There criminals, these terrorists, are cowards. There is nothing heroic in what they do," Turnbull said speaking at a different news conference in Sydney.
"Now, this is a corruption, a disease, within Islam. It is a global phenomenon and it has to be dealt with globally."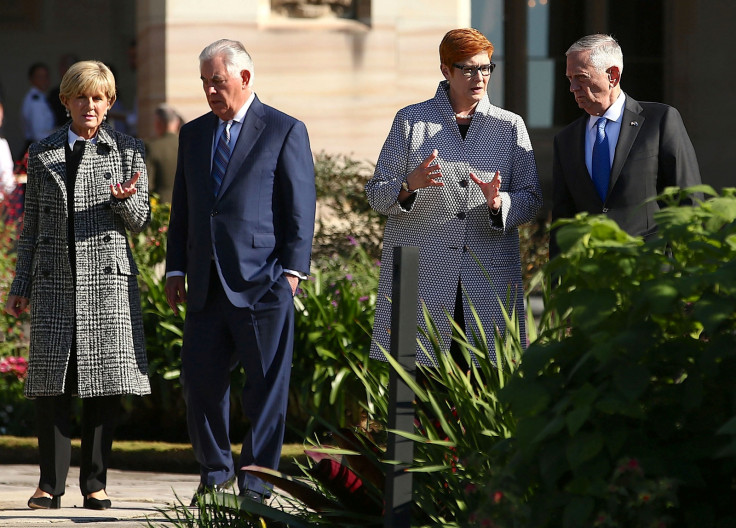 Three Australians were among those injured in the knife attacks at London Bridge and Borough Market, Australia's Foreign Minister Julie Bishop said.
She said "countering terrorism" would be high on the agenda during the meeting between Mattis and Tillerson.
One of the victims, Candice Hedge, is reported to be recovering in St Thomas' Hospital, while Andrew Morrison, the second victim, is on his way home to Australia. He received stitches for a wound after he was stabbed in the neck, AP reported.
The Australian government is thought to be making enquiries about the third Australian victim's condition.
The 3 June attacks were the third Islamist-inspired strikes in the UK in the past three months. The attacks prompted British Prime Minister Theresa May to strike a determined tone, saying "enough is enough".