Two female US mariners and their dogs, stranded at sea for more than five months, were rescued on Wednesday (25 October) by a US Navy ship near Japan.
Jennifer Appel, 48, and her friend Tasha Fuiava, both from Honolulu, had set off from Oahu — an island in Hawaii — for Tahiti in French Polynesia on 3 May, but encountered problems while sailing and got lost.
After making distress calls for 98 consecutive days and firing at least 10 flares to seek help, they were spotted by a Taiwanese vessel around 900 miles southeast of Japan after their 99th distress call on Tuesday (24 October), the mariners said on Thursday (26 October), according to NBC News.
They also said that during the five months at sea, their boat was attacked by Tiger Sharks twice.
"It was very depressing and it was very hopeless but it's the only thing you can do, so you do what you can with what you have," Appel said in a conference call from aboard the USS Ashland after their rescue. "You have no other choice."
The US Navy said that the USS Ashland, based out of Sasebo, Japan, rescued the two women on Wednesday morning (Japan time) after being contacted by the Taiwanese crew.
"It was incredibly emotional, and it was so satisfying to know the men and women that serve our country would come and assist us — it was actually quite mind-blowing and incredibly humbling," Appel said, expressing her joy after being rescued alive.
Describing the hurdles they faced at sea, Appel said that, at first, a piece of the mast called a spreader failed, limiting the sailboat's manoeuvrability. Then on 30 May, a storm flooded the engine, and also damaged their communication devices.
All the 98 distress calls they tried to place were out of range, she said. They spotted other ships near them, but they either did not or could not respond to them.
A video of the rescue released by the US Navy showed Appel blowing kisses to the approaching US vessel as the two dogs, Zeus and Valentine, barked and scampered. Appel and Fuiava said that the two dogs were their only source of comfort during the stressful times.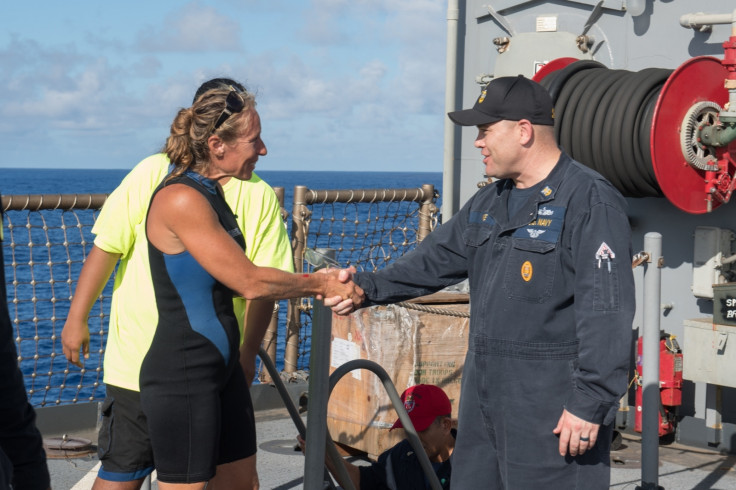 Appel added that they had water purifiers on their boat and a year's worth of food supply — mostly dry goods like oatmeal, pasta and rice — that helped them survive.
The US Navy said that the rescued women will remain on the USS Ashland until the ship's next port of call.