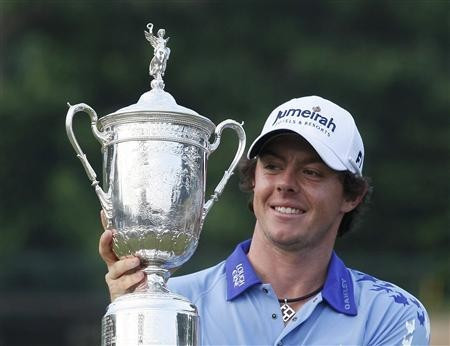 There has always been a feeling that Rory McIlroy has been destined for success in the golfing world. At the age of just two years old, The Northern Irishman was able to drive a golf ball forty yards and ever since then he has been tipped to take the golf world by storm. His parents often comment that when he was a child, Roy used to wake his parents up by hitting them with a plastic golf clubs. Stories of a young Tiger Woods being able to hit a golf ball as soon as he could walk are legendary in golfing circles and the same is true for Rory McIlroy.
The first glimpse that the world saw of McIlroy was his superb part in Europe's victory in the 2004 Junior Ryder Cup. He played an instrumental role in helping Europe to victory, even more astounding as McIlroy was only fifteen. Twelve months later, the Northern Irishman shot a course record at Royal Portrush and triumphed in both the West of Ireland and Irish Close Championship; the youngest player ever to win both events.
In February 2007, Roy McIlroy was the world's leading player as an amateur and a glittering professional career seemed assured. His first major strides to greatness were his impressive display at the Open Championship at Carnoustie. Rory McIlroy, at just 18, led the field for the majority of the event, leaving all of the world's top players in trailing him. Although his challenge faded, it was clear to everyone in golf that McIlroy was destined for a Major win; it was not if, but when it happened.
McIlroy's first senior title came in 2009 at the Dubai Desert Classic, where he won in front of his delighted parents. McIlroy was the youngest player to reach the top 50 in the world and the youngest for a decade to reach the top ten. McIlroy is the first player since Tiger Woods in to win a US Tour event before his 21st birthday.
Rory McIlroy showed his success was not individual and was instrumental in helping Europe to victory in the 2010 Ruder Cup. His partnership with fellow Irishman Graeme McDowell was instrumental in the dramatic win and although McDowell took most of the plaudits, McDowell was keen to stress how important his partner and close friend were to the victory.
McIlroy has had to face severe in tests of character in his short career and none more so than his very public humiliation in April's Masters at Augusta. It was a collapse that rivalled any in Master history. After the leading the field for the first three days, McIlroy had a spectacular meltdown and surrendered the Championship to Charl Schwartzel. However, the show of support from the fans on his final round showed the popularity of the McIlroy, something that gave him the confidence to dust himself off and come back for the US Open.
His US Open victory, though not surprising, has taken many people back. The way that McIlroy was able to put the disappointment of Augusta behind him and dominate the US Open and win by eight shots was truly exceptional. He has become the youngest winner since Tiger Woods Masters victory in 1997, winning with a record 16 under par score; eclipsing the previous Wood record of twelve under at Pebble Beach.
His remarkable rise to the top of golf has been commented by two of the greatest names in American and European Tour golf. Here is what Jack Nicklaus and Colin Montgomerie made of McIlroy's superb victory.
Jack Nicklaus
"I think he's got a great golf swing; his rhythm is so beautiful and his temperament just stays the same all the time. He doesn't try to do anything unusual with the golf ball; he hits it a little harder at times, when he wants a little more power and I think that's fine. And obviously he has a great short game.
Colin Montgomerie
You forget that walking down the 18th he's 22 years old, I mean I was still at university at that stage. 22 years old is still very, very young and he's become the youngest winner since World War Two and he's not playing catch-up, he's caught up! Amazing.