Donald Trump's sons are the focus of renewed outrage over their love of hunting wildlife, after X Factor judge Sharon Osbourne shared a photo of the pair posing with a dead leopard and a crocodile. Donald Jr and Eric Trump are seen smiling as they display their kill during a hunting trip in Zimbabwe.
Posting the image on Twitter and Instagram Osbourne said: "Really? A great example of humanity, killing animals in Africa?! Disgusting." The 63-year-old, who is vocal in her criticism of the boys' father Donald Trump Sr, shared the image as the US Presidential candidate headlined the Republican Party's convention this week.
In other photos taken during two hunting expeditions in 2010 and 2011, organised by a safari company called Hunting Legends, the Trump brothers are seen posing with several dead animals, including antelope, waterbuck, two buffalo, a great warthog, a greater kudu and a civet cat. In two more shocking image,s a 12ft 8in crocodile is hanging from a tree and Donald Jr is seen holding a dead elephant's tail, which had been hacked off as a trophy.
When the images first surfaced in 2012 animal rights activist and actress Mia Farrow also condemned the trophy hunters. "What sort of person could kill this beautiful animal? Trump sons could," she wrote.
At the time, their father defended his sons for their love of the blood sport. "My sons love to hunt. Eric is a hunter and I would say he puts it on a par with golf, if not ahead of golf. Don is a hunter. They're great marksman, great shots, they love it. I like golf. I don't do that."
TV naturalist Chris Packham said the Trump son's conduct was shameful and embarrassing. "They should feel utterly ashamed. And they're not doing their dad any favours as a man campaigning to be president. Posing alongside a dead animal like that is ridiculous and embarrassing in the 21st Century," he said.
"Killing for pleasure has to involve a psychopathic element. I don't think you can say they're a direct mirror of their father, but it says something about their environment if that's the way they've been brought up."
While the practice of hunting wildlife for sport – known as caned hunting- is legal, the blood sport is widely regarded with disdain. The killing of Cecil the lion by denstist Walter Palmer sparked global outrage and calls for a ban on trophyhunting. The 13-year-old prized lion was lured from Hwange National Park, a Zimbabwean nature reserve, on 1 July. He was shot with a crossbow, before being tracked for 40 hours and then shot with a rifle. The lion was then decapitated and skinned for trophies.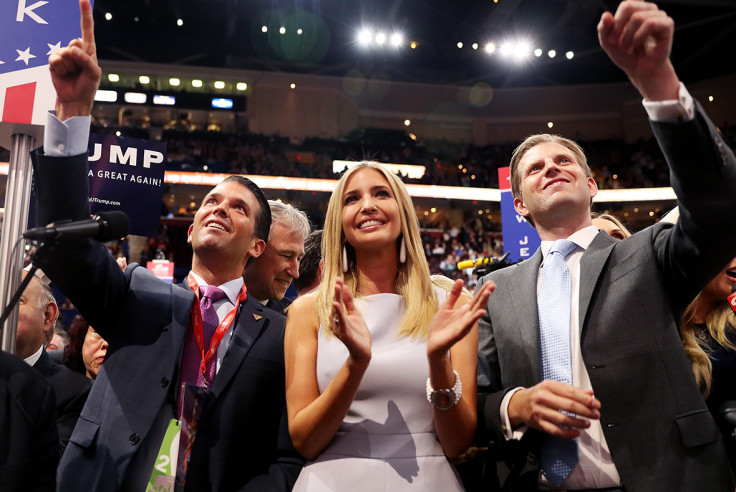 The brothers however, who are executive vice presidents of the Trump Organisation, along with their sister Ivanka, 34, previously said they were unconcerned by the public criticism Mirror Online reports. "I have no regrets. Hunting isn't about killing. Hunting and fishing makes you fall in love with the natural world," said Donald Jr.
Donald Jr has played a key role throughout his father's presidential campaign and was commended for his speech at the Republican National Convention in Cleveland when he confirmed he would like to follow in his father's footsteps and run for office one day.
And while the Trump offspring have all been standing by their father as he makes a bid to become the next President of the US, it's thought that the trophy hunting photos could jeopardize Trump Snr's public image.