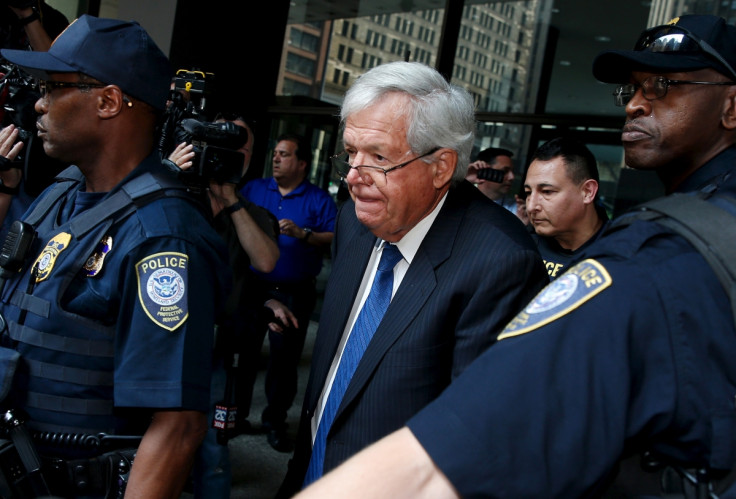 US prosecutors have accused a former US speaker of the House of Representatives of paying hush money to five boys he allegedly molested while he was a high school wrestling coach. Republican Dennis Hastert was once second-in-line to the presidency under Bill Clinton in 1999 and then George Bush from 2001-2007.
But his reputation is now on the line as federal prosecutors claim he abused boys whilst working at Yorkville High School, in a suburb of Chicago, Illinois, from 1965-1981. The father-of-two has already pleaded guilty to illegally structuring $1.7m (£1.2m) in bank withdrawals in cash over several years. This, prosecutors claim, was to pay his victims in order to stop them going to the press.
The 74 year-old cannot be tried for sexual abuse because statutes of limitations – the time in which a case can be brought – passed years ago. But Hastert still faces up to six months in prison when he is sentenced on 27 April, after admitting lying and breaking financial rules.
Included in the documents are claims by a man, named "individual A", who said the politician had touched him inappropriately when they stayed in a motel room when returning from a wrestling camp. Another claimant, "Individual D", said Hastert put a La-Z-Boy chair – a reclining armchair – in direct view of the boys showers and would sit and watch boys shower.
Locker room 'abuse'
Two of the accusers said the Illinois-born politician performed sex acts on them in the high school locker room when they were 14 and 17. Individual A claimed that Hastert had offered $3.5m (£2.4m) to "compensate" him for the abuse he suffered.
It has emerged that one of the alleged victims was identified as Stephen Reinboldt, who died in 1995.
Prosecutor Steven Block said that the victims are still struggling to come to terms with the abuse.
"He [Hastert] made them feel alone, ashamed, guilty and devoid of dignity. While defendant achieved great success, reaping all the benefits that went with it, these boys struggled, and all are still struggling now with what defendant did to them," said Block.
The cash withdrawals took place between 2010-2014 with Hastert withdrawing money in increments less than $10,000 in order to not trigger bank filing requirements. Defence lawyers want Hastert to be spared jail because of his ill health.