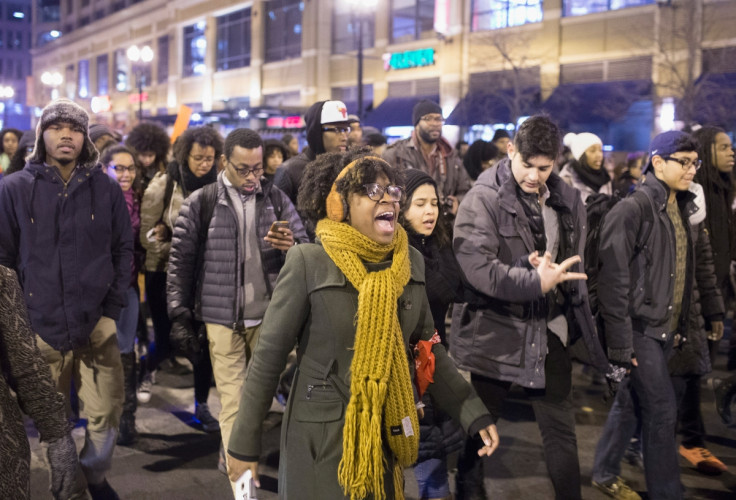 The city of Chicago is expecting a second night of protests and even gang violence following the release of a disturbing video showing a white police officer shooting a black teenager 16 times. On 24 November, the city saw loud and angry protests that left just five arrested, although officials are braced for continued backlash.
According to USA Today, an internal memo from the Chicago Police Department distributed to officers on Tuesday (24 November) warned of potential ambushes by gang members following the release of the video showing Officer Jason Van Dyke shooting 17-year-old Laquan McDonald. Van Dyke was charged with first-degree murder.
"The information indicates that gang members may utilise ambush-style tactics in order to shoot police officers in retaliation to recently publicised events," the safety memo said. The document, which was obtained by USA Today from an unnamed official, indicated that gang members in the 12th and 14th districts of the city's West Side may look to target officers in that area.
"The information indicated that officers leaving the police stations could be targeted because officers will not be on guard or ready if fired upon," the memo said. "Also officers could be drawn to dead-end streets, distracted or baited, and then shot while inside their patrol vehicles." According to USA Today, it is unclear if police continue to be concerned about gang violence as they prepare for a second night of protests.
Continued protests
Small groups of demonstrators gathered during the second night of protests and urged supporters to join them in efforts to shut down Chicago's Michigan Avenue shopping district during Black Friday shopping. According to The Associated Press, nearly two dozen demonstrators gathered outside Mayor Rahm Emanuel's City Hall office holding banners of other black people killed by police in Chicago and throughout the country.
"You cannot kill our children and expect us to be quiet any longer," said protester Quovadis Green. "It is unacceptable." The AP reported that activist Mark Carter called on people to "rise up" and help shut down the shopping area on 27 November. Carter also called for the US Department of Justice to investigate the Chicago Police Department for its history of covering up corrupt behaviour.
Van Dyke's defence
Meanwhile, the officer at the centre of the shooting is claiming that the video of him shooting McDonald 16 times does not tell the whole story. "Video by its nature is two-dimensional. It distorts images," Van Dyke's lawyer Daniel Herbert told CNN. "So what appears to be clear on a video sometimes is not always that clear."
Herbert claims his client was "in fear for his life" when he repeatedly shot at the knife-wielding 17-year-old, NY Daily News reported. "Someone called for a taser," Herbert said. "No taser was available." It should be noted that none of the officers at the scene were seen providing the teen medical assistance after he was shot. Authorities claimed that McDonald was carrying a 3-inch folding knife and had the drug PCP in his system at the time of his death.
The October 2014 incident led to criminal charges against Van Dyke over a year after the fact. According to the Daily News, Van Dyke, who was ordered held without bond, has received at least 18 citizen complaints during his 14-year law enforcement career. However, he was never disciplined. "He has largely operated with impunity and under a code of silence with the same huddle of officers again and again," Alison Flowers, of the University of Chicago, told ABC News.