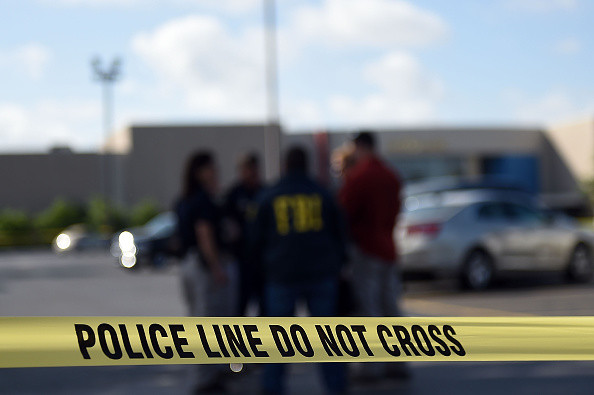 A standoff in Pennsylvania between police and three fugitives ended with one dead and two in custody on 7 November. Authorities in Trevose were searching for James Miller, who had violated his parole, to serve a warrant when they found Lloyd Wayne Franklin and Jennifer Lanning, who were wanted in a double homicide in North Carolina, in a motel room with him.
According to CBS affiliate KYW, the standoff began around 3pm ET at the Knights Inn outside of Philadelphia. The North Carolina couple, 34-year-old Franklin and 38-year-old Lanning, had picked up a hitchhiker who was wanted in an auto theft case, Bensalem public safety director Fred Harran said. "They picked up the wrong hitchhiker," he said. "Criminals picking up criminals...bad luck for all of them."
When officers tried to take Miller into custody, Franklin assumed the police were looking for him and decided to open fire. Police said that the officers were not hit and did not return fire. After several hours, Lanning surrendered and told police that the two men, one with a gunshot wound, were in the motel room. According to NBC Philadelphia, Miller continued the standoff with police for another two and a half hours before surrendering.
After the standoff ended, Franklin was found dead from an apparently self-inflicted gunshot wound to the head. "It appears the individual may have killed himself so as not to be taken into custody by police," Harran said.
The sheriff's office in Davidson County, North Carolina reported Franklin and Lanning had been on the run since 29 October after the bodies of 82-year-old Davie Lee McSwain and his 78-year-old wife Joan McSwain were found in their Thomasville home, according to CBS . The slain couple's mini-van was also missing.
Police believe Franklin was shot by McSwain before fleeing with a gun stolen from the home. He then reportedly picked up Lanning and the couple committed several pharmacy robberies in Aberdeen and Roanoke Rapids, North Carolina and Georgetown, South Carolina before deciding to drive north, where they met Miller.
"The danger to the community is over," Harran told reporters after the standoff. "We have two people that [North Carolina] was looking for, for homicide. One will go to jail and one will go to the grace. So the threat to the community from these two undesirable is now over." Lanning will be arraigned and sent to the Bucks County Correctional Facility, NBC Philadelphia said.