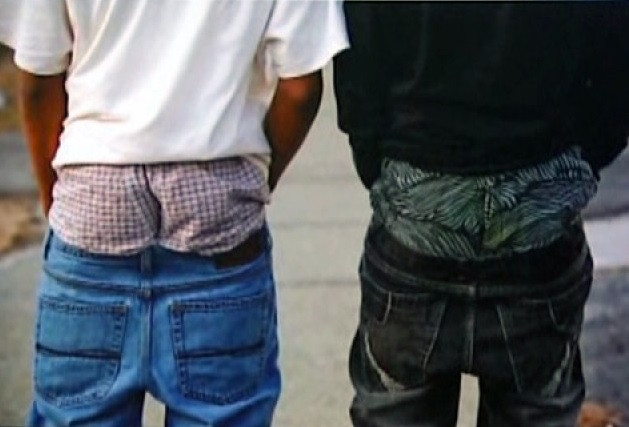 A city in Tennessee has begun the process of making the wearing of low-slung trousers illegal.
The City Council of Pikeville has unanimously approved an ordinance that would make individuals who wear their trousers exposing their undergarment guilty of public indecency. Specifically, the trousers or jeans cannot be worn "more than three inches below the top of the hips".
The ordinance must be read several times before it can be officially approved while the law itself may take a few months to come into effect.
Speaking to Times Free Press, Phil Cagle, mayor of Pikeville, said: "Myself and the City Council, we wanted an ordinance passed in black and white that our officers know what to tolerate and what not to tolerate. Now they know what we expect, and they know how to handle it."
According to UPI.com, offenders will be required to pay a fine of at least $25 for their first offence, after which the figure will rise to "no more than" $50 for subsequent violations.
The ordinance states that Pikeville finds the "exposure of a person's buttocks and genital area or undergarments" offensive and indecent. It also reads: "There is evidence that indicates that wearing sagging pants is injurious to the health of the wearer as it causes improper gait."
Cagle compared the new legislation to an existing state law which makes "indecent exposure" in schools illegal.
"All I know is we just don't want them running around half-naked on our streets," Cagle said. "That's the bottom line."
Other offences listed include lewd and sexual acts, publicly relieving oneself and indecent exposure of body parts.
In 2012, a similarly-worded Florida law banned the wearing of saggy trousers in public, giving Cocoa city police the ability to control the dress code of residents. The council prohibited trousers which expose underwear or skin more than three inches below the waistline on streets.
However, critics claimed the law gave police the right to increase their stop and search activity.
In 2011, Florida lawmakers proposed the "droopy drawers bill" - which focused on innappropriate clothing worn by high school children, as reported by the Examiner.
Legislation regarding "saggy pants" has also been passed in several areas of Georgis and Mississippi. In early 2012, Montgomery County in Alabama called for a fine of up to $100 for juveniles and $150 for adults caught with their pants down.