Usain Bolt's Brazilian company – Jady Duarte – has become an internet sensation a day after her photos with the Jamaican sprinter surfaced online. Duarte, who is known to be a student in Rio, had revealed details about her night with Bolt. Now, in her latest tweet the lady has expressed her love for the Jamaican superstar.
On Tuesday the Brazilian woman tweeted, "I love bolt," on the micro-blogging site followed by a heart emoticon.
However, Duarte's Twitter account is not a verified one.
Before explicitly naming and proclaiming love for the 30-year-old Olympian, Duarte posted a series of cryptic tweets in Portuguese on the social media.
The translation of one of her posts reads, "That peace, that only you bring me". Whether, Duarte - the reported widow of drug kingpin Diná Terror - directed these tweets at the Jamaican champion is still unknown.
Her cryptic Twitter posts come after her interview with the Rio outlet of Extra (via Sun), where Duarte talked in details about her night with Bolt and the controversial photos in question. "It was not a big deal. It was normal," the drug lord's widow said about her night with Bolt adding "I'd rather not talk about it to not complicate it."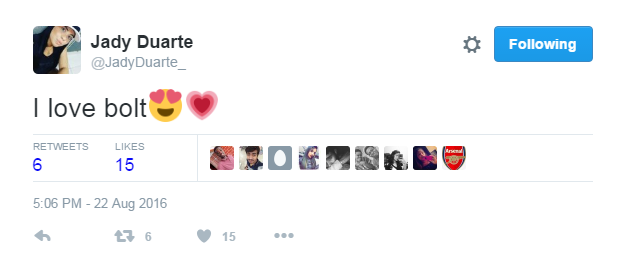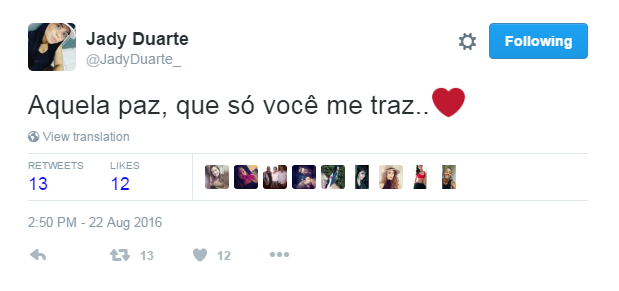 The scandalous photos with Bolt went viral after being shared by Duarte with her girlfriends on WhatsApp. However, in her interview, the Brazilian woman claimed that she never wanted that kind of attention. "It's very negative," she told Extra adding "I never wanted to be famous, I'm dying of shame."