After Usain Bolt stirred a controversy with his partying marathon accompanied by a bevy of ladies, the Jamaican sprinter put all rumours to rest with his recent Snapchat proposal. In a series of snaps and videos, the Jamaican sprinter seemed to announce to the world that he and his "first lady" Kasi Bennett are engaged.
But, the latest report by TMZ contradicts the engagement rumours as it suggests that the Olympics champion has not proposed to Bennett and that the duo are not engaged.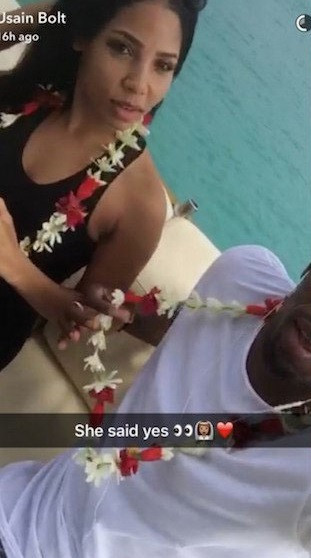 As per the website, the 30-year-old Olympian, who jetted off to Bora Bora with his love interest for a break, did click a photo of himself and Bennett, but the caption accompanying the picture is not true.
"She said yes," read the Snapchat post featuring Bolt with his 26-year-old girlfriend followed by a bride and heart emoticon. But, if the report is to be believed, the Jamaican star's agent Ricky Simms has claimed that Bolt did not write the caption. Apparently, the cheeky caption is a "hoax created by some Internet troll".
The news comes following engagement claims made by Bolt's sister Christine Bolt-Hylton in the wake of his success at the Rio 2016 Olympics.
"I've met her and she's lovely, she's perfect for Usain. I would say that there's a very strong possibility they'll get engaged when he comes home. I last saw them in March at Usain's restaurant in Jamaica and they looked very comfortable together, sharing their food and laughing and joking," the Olympian's sister had said earlier.
Later, she even defended Bolt after his wild outings and scandalous pictures with the 20-year-old Brazilian student went viral.
"I'm sure Kasi will be used to it by now. She is used to seeing pictures like this," she had said adding, "Kasi was definitely OK with the party pictures. The pictures with the girl he should definitely apologise for."
Watch the video from the couple's Bora Bora holiday here: