When Usain Bolt's sister said his transatlantic partying marathon would not jeopardise his relationship with long-time girlfriend Kasi Bennett, she hit the nail on the head. Just days after he was linked to several different women, it looks like the Jamaican sprinter has done a 180 and is now engaged to his other half.
After reuniting with Bennett, the couple jetted off to Bora Bora for a sunshine break and it seems that the exotic location served as the perfect backdrop for a proposal. The 30-year-old athlete shared moments from their trip with fans in a series of videos on Snapchat.
In one post, the couple relax on a boat with floral garlands around their necks. He captioned the snap: "She said yes," adding a bride and heart emoji.
In another image of the young couple clinking glasses he made it clear that he was unfazed by the drama, telling fans: "The only person opinion that matters #vacation."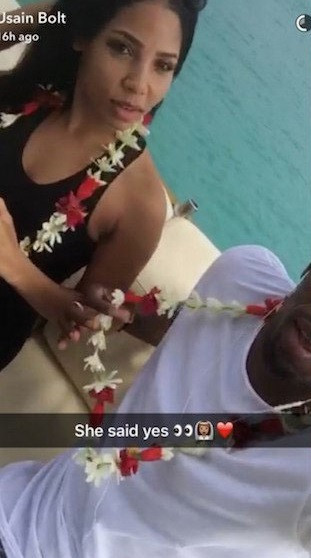 One person that will welcome any engagement news is his mother Jennifer Bolt. She told CNN's Don Riddell at Rio 2016 that she was desperate for grandchildren. "I would hope he'll settle down, get married and start his family," she said. "I know he'll settle down because he has said it. He told me many times that he's going to start his family."
IBTimes UK has reached out to Bolt's reps for comment and is awaiting reply.
At the height of the cheating scandal, Bennett posted a cryptic message on Twitter which simply read: "#SelfControl." When a follower on the micro-blogging site, said: "I want @kasi_b's level of self control," she replied: " Not easy".
After images emerged online Bolt enjoying the company of serveral women − including 20-year-old Rio student named Jady Duarte, who he was snapped kissing − his sister Christine Bolt-Hylton slammed the online critics. She added while his other half is angry, they will not split.
"I'm sure Kasi will be used to it by now. She is used to seeing pictures like this," Bolt-Hylton said. "People ask for pictures with him and he is always willing to have pictures. Bolt-Hylton added that she doesn't think anything happened between him and Duarte. "Kasi was definitely OK with the party pictures. The pictures with the girl he should definitely apologise for."