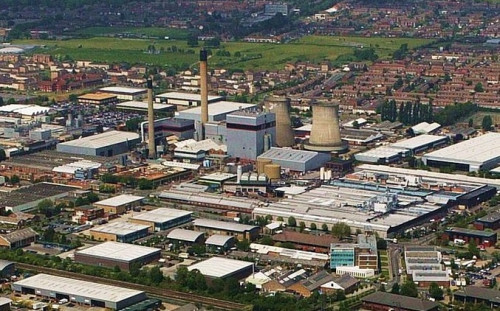 Valentine's Day is upon us again and couples across the world are scouring websites for the most romantic getaways. In celebration of the day, Hotels.com has helpfully revealed the least romantic places in the UK - of which Slough has come top.
According to the website, the Berkshire town is not the place to go for romance and woo. The survey polled 2,000 people in which the majority said the commuter hub was not the ideal destination for Valentine's Day.
It was famously panned by the former Poet Laureate Sir John Betjeman, who wrote: "Come friendly bombs and fall on Slough; It isn't fit for humans now."
Although the town has one of the highest birth rates, it has been criticised by various comedians, including Jimmy Carr. On growing up in the area, he said: "I grew up in Slough in the 1970s; if you want to know what Slough was like in the 1970s, go there now."
In the BBC comedy The Office, the location of the paper sales office is in Slough - where it resembles a post-industrial wasteland.
A spokeswoman for the local authority told the Metro: "Slough is not your traditional tourist area but more companies have their corporate headquarters here than anywhere else except London and it is in the workplace where many people meet their future spouse."
Second on the list of undesirable places is Birmingham, followed by Scunthorpe, Hull and in fifth place, Bradford. Coming in sixth is Basingstoke, in northeast Hampshire.
According to Hotels.com, the most romantic place in the UK is the Lake District, followed by the Cotswolds.
London, perhaps based on its sheer scale, is listed as the third most romantic Valentine's Day destination, but also appears to be seventh among the least romantic options.
The least romantic places in the UK:
1. Slough
2. Birmingham
3. Scunthorpe
4. Hull
5. Bradford
6. Basingstoke
7. London
8. Crewe
9. Stockton on Tees
10. Blackpool
The most romantic places in the UK:
1. Lake District
2. Cotswolds
3. London
4. Cornwall
5. Stratford-upon-Avon
6. York
7. Edinburgh
8. Bath
9. Isle of Wight
10. Devon