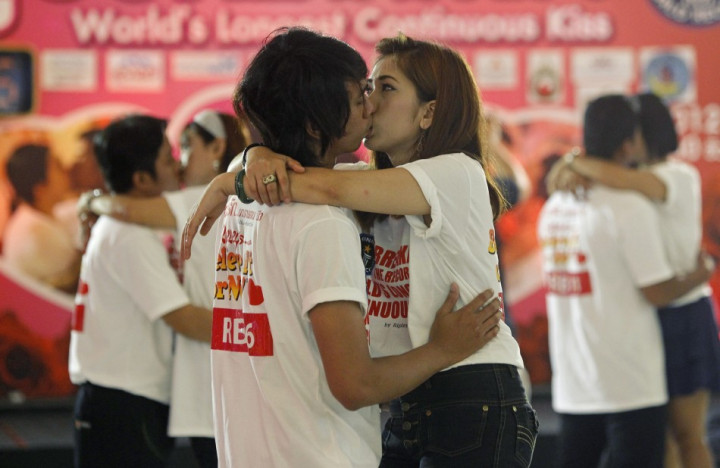 Nothing says Je t'aime on Valentine's Day like a loving kiss - but what about a 50-hour-long snog?
Amorous couples have been getting into the Valentine's Day spirit by attempting to set the world record for the longest smooch in history.
Nine couples clamped lips for the challenge in Pattaya, Thailand.
Rules had to be strictly followed to ensure the effort was recognised by Guinness World Records. Going to the toilet was not a valid reason to stop kissing, while fluids such as water and milk had to be ingested via a straw - without pausing the embrace.
It seems the bid was custom-designed to attract only married couples or those well-used to each other's personal habits.
Other rules included no sitting down and no going to the toilet for the first six hours.
A spokesman for the event said: "They couldn't do this unless they love each other. The smell of their breath would probably be quite something."
Among the contestants was an elderly couple with the surname Yomjinda, aged 74 and 72 years old. The long-time lovers attended as part of the celebrations for their 50th wedding anniversary.
The nine couples were trying to surpass the world record of 50 hours and 25 minutes, set by a gay couple last year - who returned to try and beat their own personal best.
Unfortunately for the golden anniversary couple, they failed to unseat the record holders by dropping out after only one hour. But nor did anybody else
It meant that prizes on offer including two diamond rings and a 100,000 baht (£2,000) cash prize went unclaimed.
Prince William and Kate Middleton: Valentine's Day Gifts for a Princess