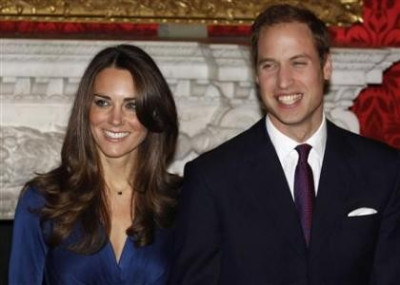 Their fairytale romance has captured the hearts of millions since they said "I do" at Westminster Abbey in April 2011 so it comes as no surprise that Prince William and Kate Middleton have been named the most inspiring couple in the run-up to Valentine's Day.
The royal couple may be expecting their first child together but the honeymoon period is nowhere near over.
Clearly still head over heels in love, the newlyweds beat William Shakespeare's Romeo and Juliet and even Twilight's Edward Cullen and Bella Swan in the poll compiled by Travelodge.
It will be the royal couple's first Valentine's Day together.
William was 7,000 miles away on a six-week tour of duty in the Falkland Islands last Valentine's so this year presents a chance for him to spoil his wife rotten.
While roses and chocolates are the favourite choice of presents on the most romantic day of the year, maybe the prince will think outside the box this year.
Valentine's Day: Thailand Kissing Couples go for Record-Breaking Snog
IBTimes UK takes a look at a few Valentine's gift ideas that would be perfect when trying to romance a future queen...